Description
Say goodbye to lower back pain and feel the relief with Ortorex Seat Cushion!
Ergonomically designed Gel Seat Cushion provides maximum support and superior comfort while reducing pressure on the coccyx and tailbone, which can relieve lower back pain and help with most sitting pain due to sciatica, herniated discs, tailbone injuries, pregnancy, hip pain, hemorrhoids, and pelvic problems caused by prolonged sitting. It combines soft sitting comfort with stable support to evenly absorb and dissipate body pressure.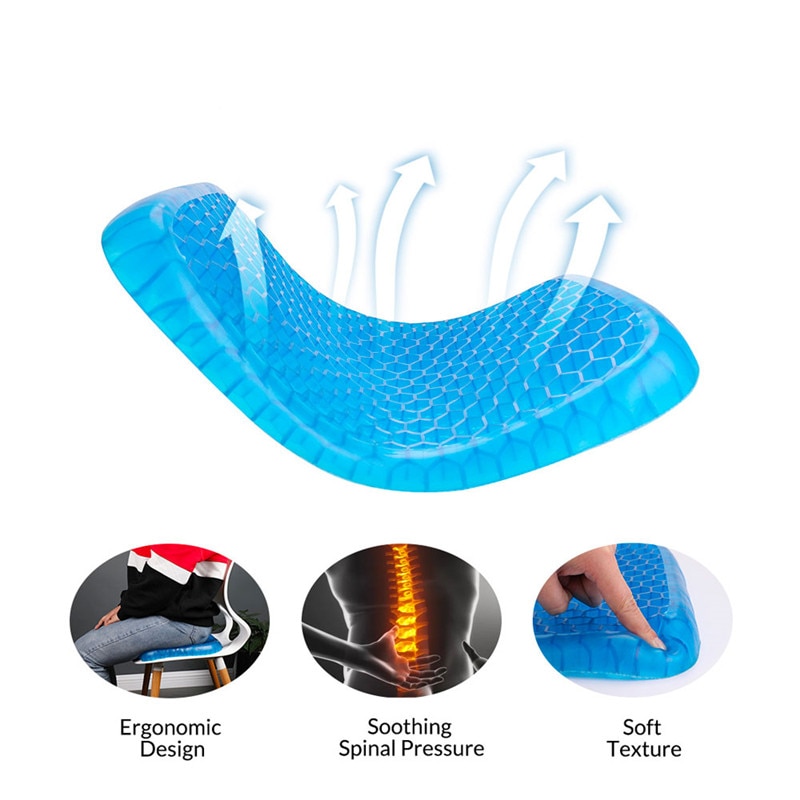 The cushion is made of high elastic therapeutic comfort gel, which makes it cool to sit on and helps people who are in long sitting to deal with the steam heat. The gel cushion adopts a honeycomb design to circulate air, so it has good breathability. Soft and elastic gel material eliminates uncomfortable pressure points in a natural way while long sitting so you can sit still for a long time without feeling tired. The cover of the cushion is designed with a full breathability top fabric and a non-slip grip bottom. Zippered closure makes it easy to remove for washing and re-inserting.
" alt="" width="600" height="600" data-src="https://img-va.myshopline.com/image/store/1695265431627/716O5HbjhOL-SL1050-.jpg?w=600&h=600" />
The gel cushion can be used in various places such as the driver's seat of a car, a dining chair at home, or an office chair. It's a great choice of wheelchair cushions for seniors. Due to excellent flexibility, the cushion be squeezed back to the original shape immediately after stretching, it will always maintain its original shape and it won't lose its support, even after a long term use, which makes it more durable than ordinary cushions.
" alt="" width="600" height="600" data-src="https://img-va.myshopline.com/image/store/1695265431627/1-PCS-Breathable-Ass-Cushion-Ice-Pad-Gel-Pad-Non-Slip-Wear-Resistant-Durable-Soft-And-1.jpg?w=1000&h=1000" />
✔️ BACK & TAILBONE PRESSURE RELIEF — By evenly distributing the weight across the surface of the cushion, it eliminates painful pressure points, conditions from lumbar strain, sciatica, and others.
✔️ HONEYCOMB DESIGN — Promotes better air circulation, making the cushion stay cool even when sitting for a long time.
✔️ FLEXIBLE & DURABLE — Elastic self-cooling gel material maintains its original shape durably, and it won't lose its support even after long-term use.
✔️ EASY CLEANING & PORTABLE — Lightweight enough to bring with you wherever you need to promote the comfort of office chairs, cars, or aircraft seats. Washable covering makes it very easy to keep the cushion fresh and clean.