Specification
| | |
| --- | --- |
| Size | 10"x10" |
| Electricity Bill Running 8 Weeks 24/7 (US Average) | 2.41 USD |
| # of Chicks Kept Warm | 15 Chicks |
| Watts Per Hour | 13 Watts |
| Easy Height Adjustment | YES |
Find the perfect height for your chicks to keep them at the perfect temperature and grow strong.
It has 25 adjustable height settings. Adjust by as little as 1/4"!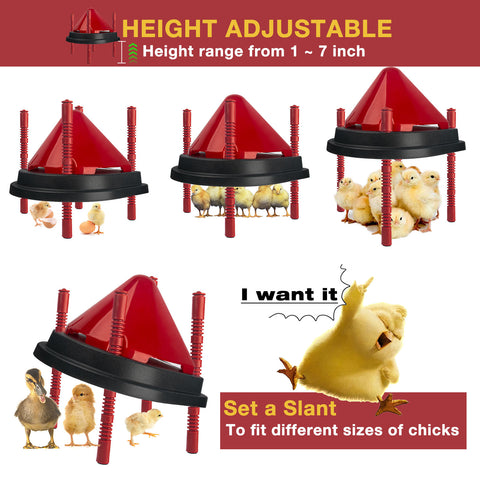 Hantop UnitedFarm Heater Plates are more practical in every way
The cost to run a 10x10" heat plate is just 2.41 USD over 8 weeks running 24 hours per day. Compare that to your standard 250-watt heat bulb which costs 40.32 USD over 8 weeks. You will save using the Hantop UnitedFarm Heat Plate.