Features:
- 2020 Intelligent Identification Chip: The microprocessor intelligently detects the dog barking technology, which can safely and effectively filter other unrelated sounds and prevent false triggering.  The anti-bark collar is designed with 7 adjustable sensitivity levels and 3 training modes(Beep, Vibration, E-Shock), effectively stopping the barking with no harm to the dogs of all types. 
- Smart Test E-shock Mode: E-shock setting,7 sensitivity level, you can test by blowing at the sensor microphone on the back of the receiver. Attach the light testing unit to probes(The test light will be on), which means the receiver works fine. This makes it easy to ensure that your pet is effectively trained. 
- 3 Training Mode & Automatic Protection System- Bark collar has 3 training Modes include "Beep + Vibration + E-Shock" default setting mode and 0-7 adjustable sensitivity level adjustable. Stop barking with no harm to dogs. Select the most suitable mode and level freely as your needs. The device will sleep for one minute after seven consecutive triggers, and return to the initial state to protect the pet. 
- Touch Button Design: The whole button is touch-sensitive. long press 3 seconds to enter set up mode. It can prevent pets from mistakenly touching and changing the machine settings. Digital Led screen displays modes,battery Levels and sensitivity levels. 
- Rechargeable & Waterproof: The collar contains a built-in USB rechargeable battery. It can be fully charged in about 2-3 hours and gave you 10-15 days of use.IP67 waterproof level design allows your dogs can run or play indoors and outdoors under any weather conditions.
Specification: 
Operating voltage: 3.7V; 
Power consumption: Sleep current 20uA, standby current 300uA; 
Battery capacity: 300mAH; 
Rated input: DC5V/1A; 
Waterproof rating: IP67; 
Operating temperature: -10C°~+50C°; ?Storage temperature: -20C°~+60C°; 
volume: 70mm*37mm*40mm; 
Net Weight: 67g.
Note:
Please read the product manual carefully before use and keep it properly.
- This product is suitable for dogs weighing between 5kg ~ 50kg (11Ibs ~ 110lbs) and neck circumference less than 62cm (25in). The product is not suitable for dogs weighing less than 5kg (11Ibs) or younger than 6 months.
- Do not wear the product for more than 12 hours per day.
- This product is prohibited for children to play. Keep out of reach of children.
- When the product is on, avoid touching the human body with the electric shock probe.
- The collar circumference is suitable for most pet dogs.
- When using the product for the first time, if the battery level is lower than 5, please charge it first. Use the product after it is fully charged. In standby mode, touch the M key to check the battery level.
【Package Included】
1 × Dog Bark Collar 
1 × Adjustable Nylon Belt 
1 × USB Charging Cable 
1 × Test Bulb 
1 × User Manual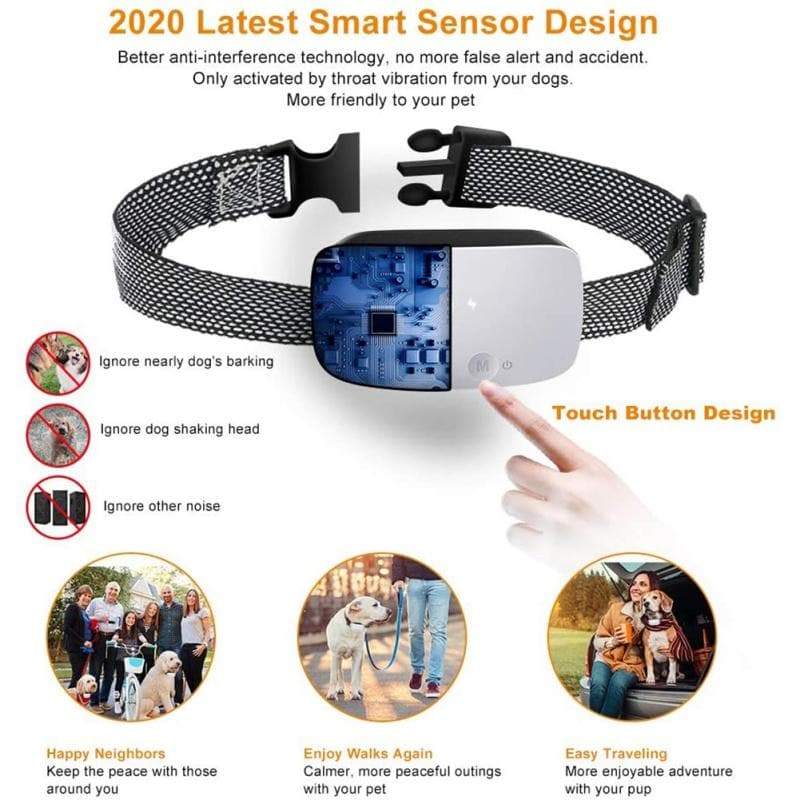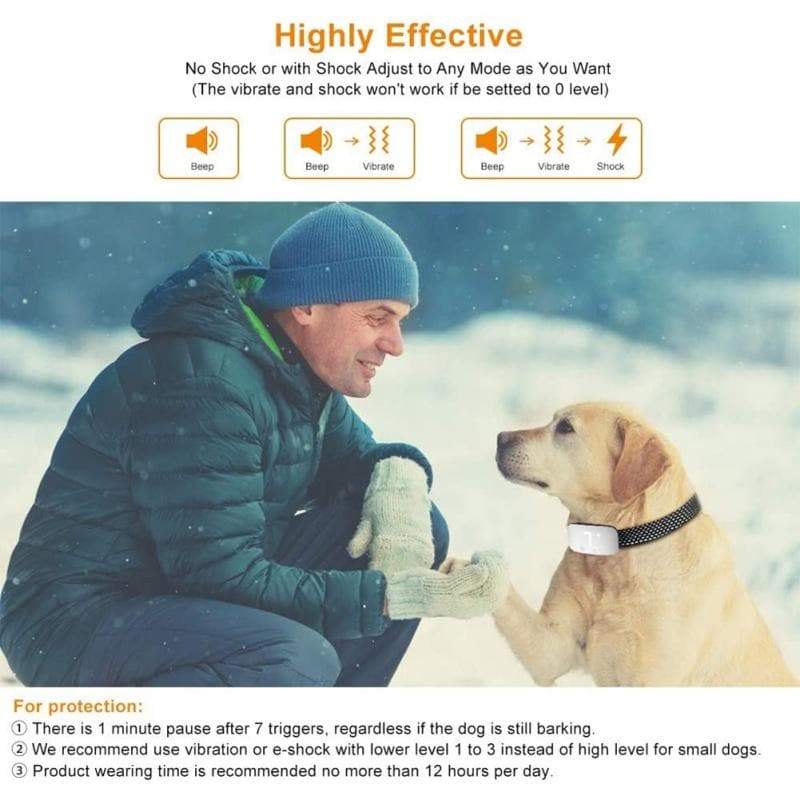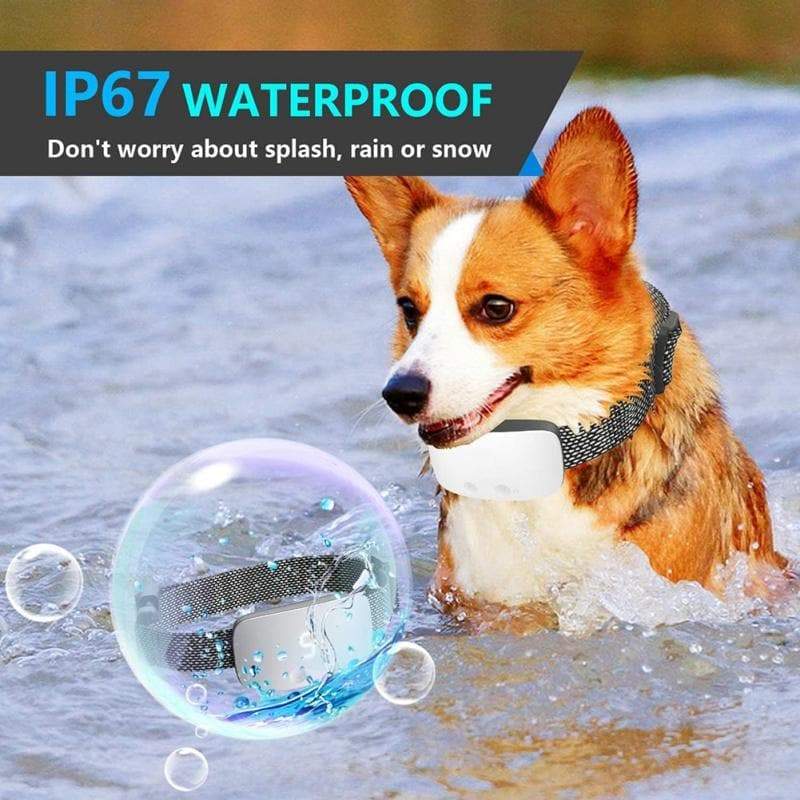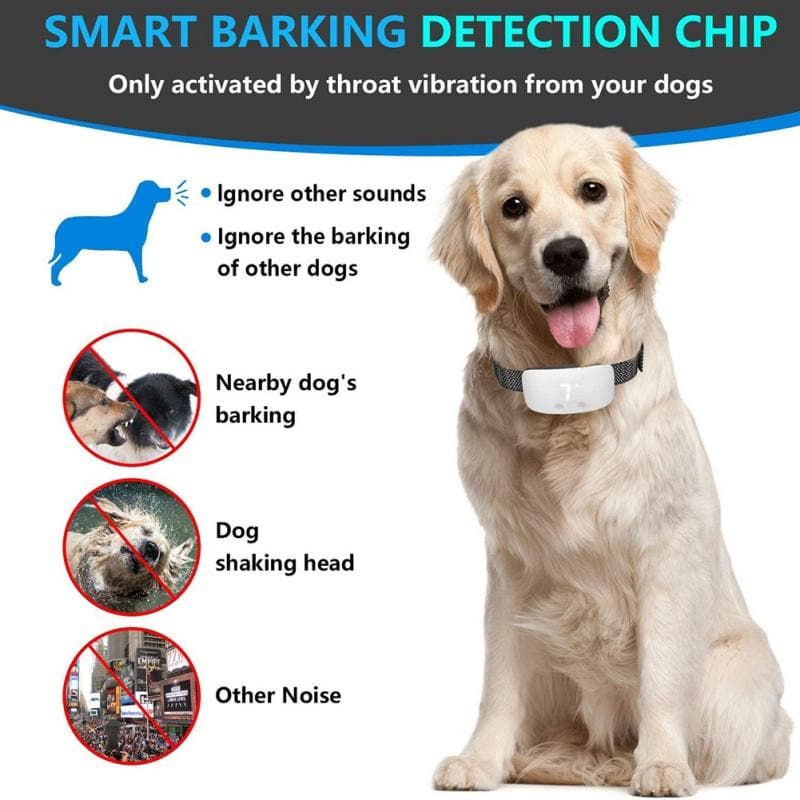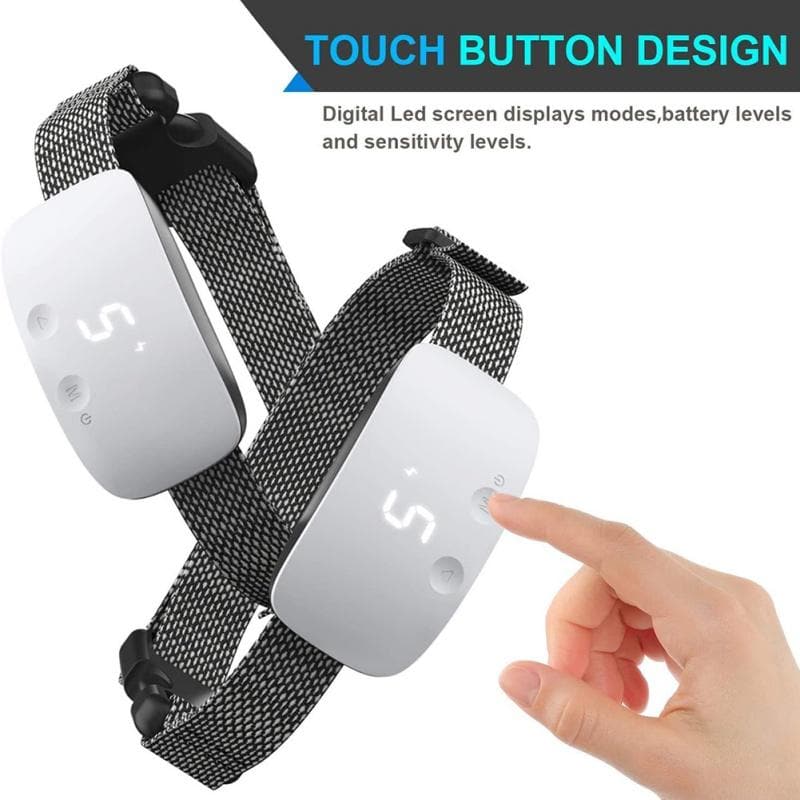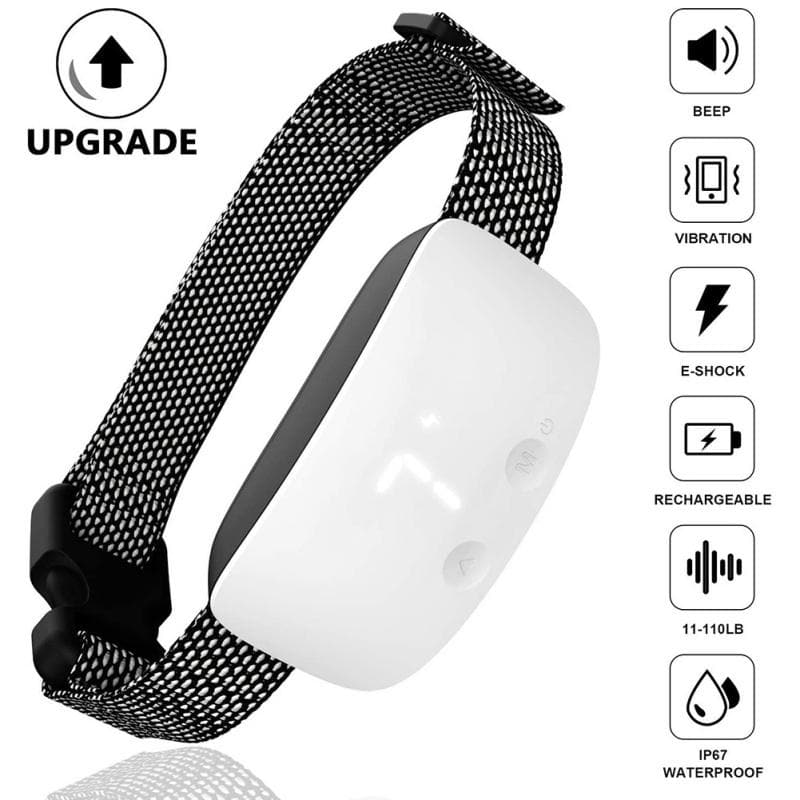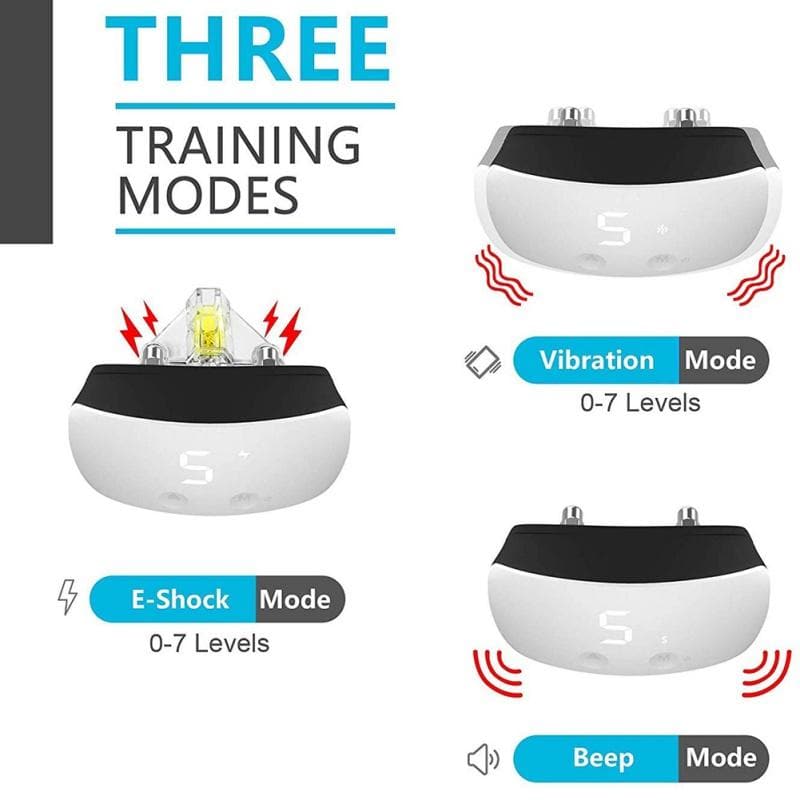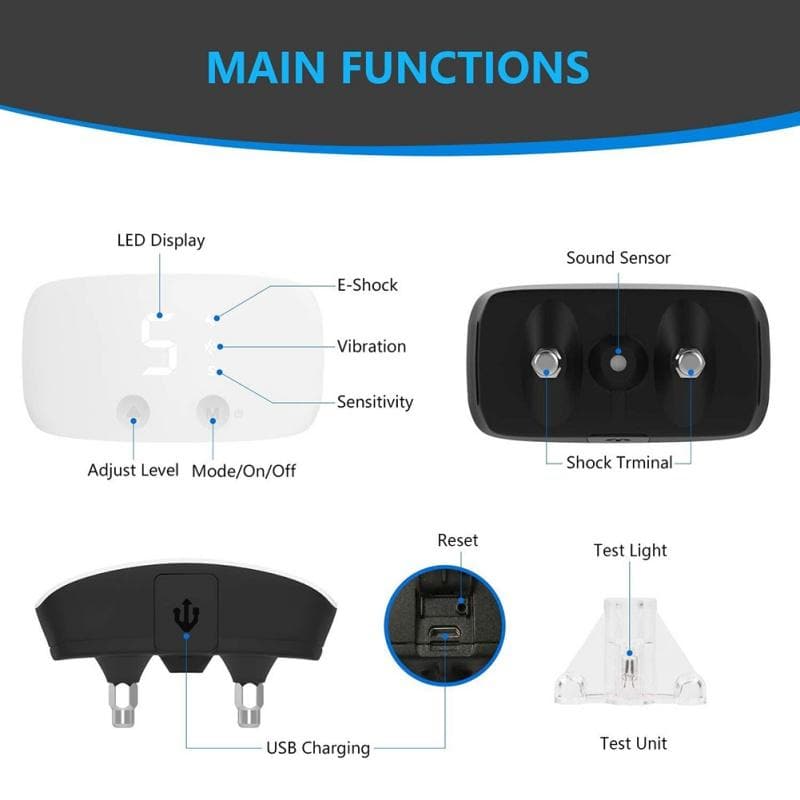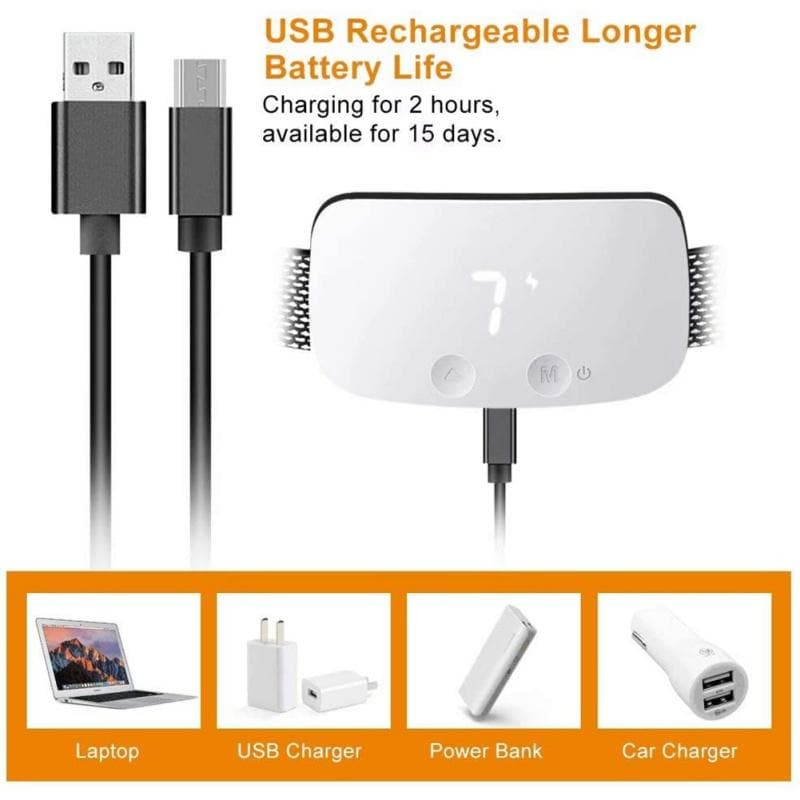 Video Introduction: