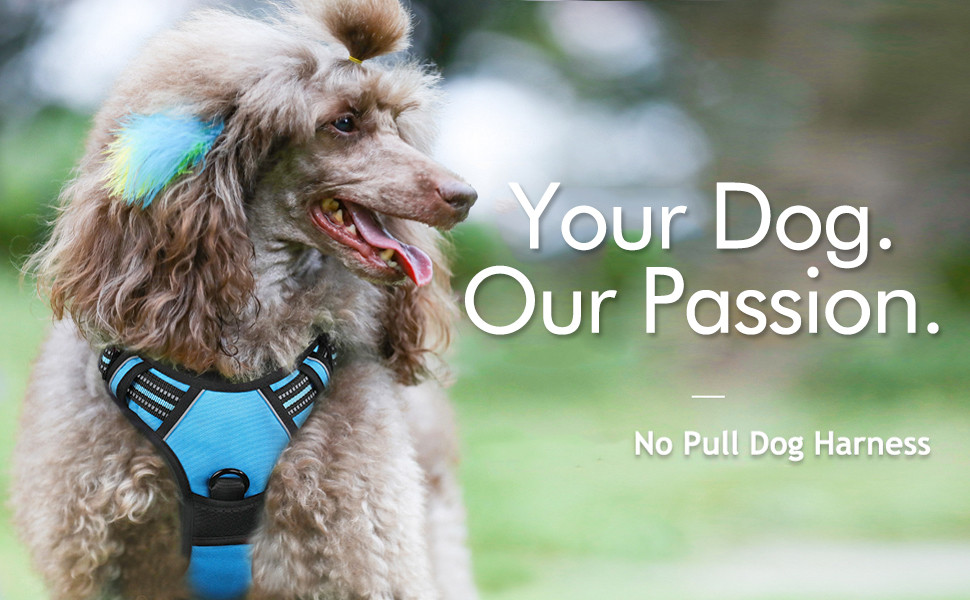 No Pull Adjustable Dog Harness - Designed for Your Dog, and You.
Many dogs tend to pull a lot when they are excited to feel the nature or to meet new furry friends. Our harness features No-Pull Design so that you can have better control of your dog by attaching the leash to the Front Clip. Every time your dog pulls, he/she got turned around instead of continuing forward and pulling on the leash. Soon your dog will learn not to pull.
The soft and breathable padding will give your dog a snug fit around the whole body, so your dog will feel secured and comfortable while wearing it, making the walk even more enjoyable.
The materials that we used to craft our harness are all of premium quality, so your dog will wear it like a champ.
Day and night, with Willhappys Safety Dog Vest Harness, your outdoor adventure with your furry friend becomes a pure fun.
Note: Please measure your dog carefully and refer to the size chart before purchasing.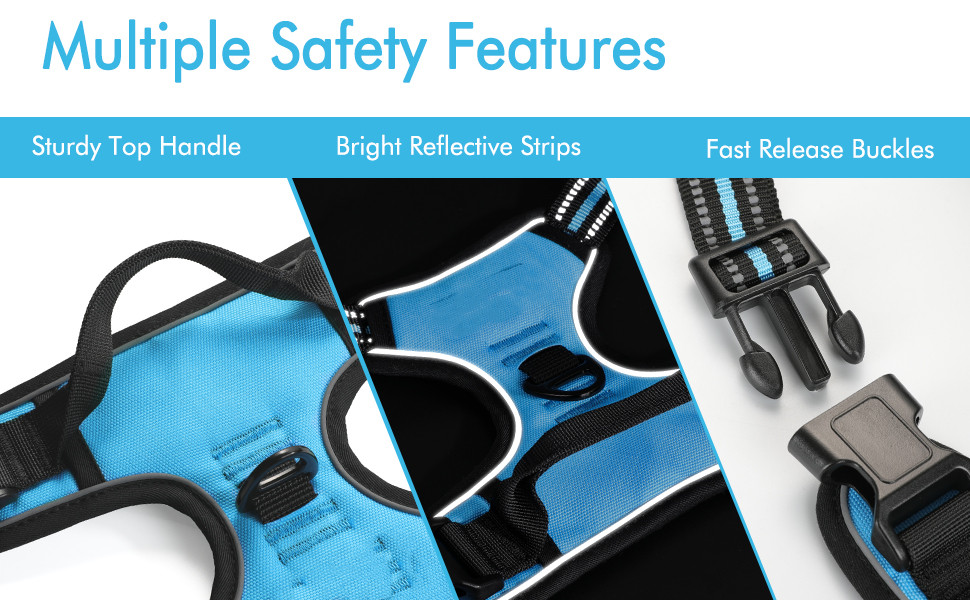 Willhappys Dog Harness - A Smart Harness Designed Specially for Your Four-Legged Friend.
Bright Reflective Strips offer good visibility for safe night-time walks
Helpful Top Handle helps you gain instant control of your dog
The 2 Side Buckles ensure the harness can guard your dog, preventing your excited dog from slipping out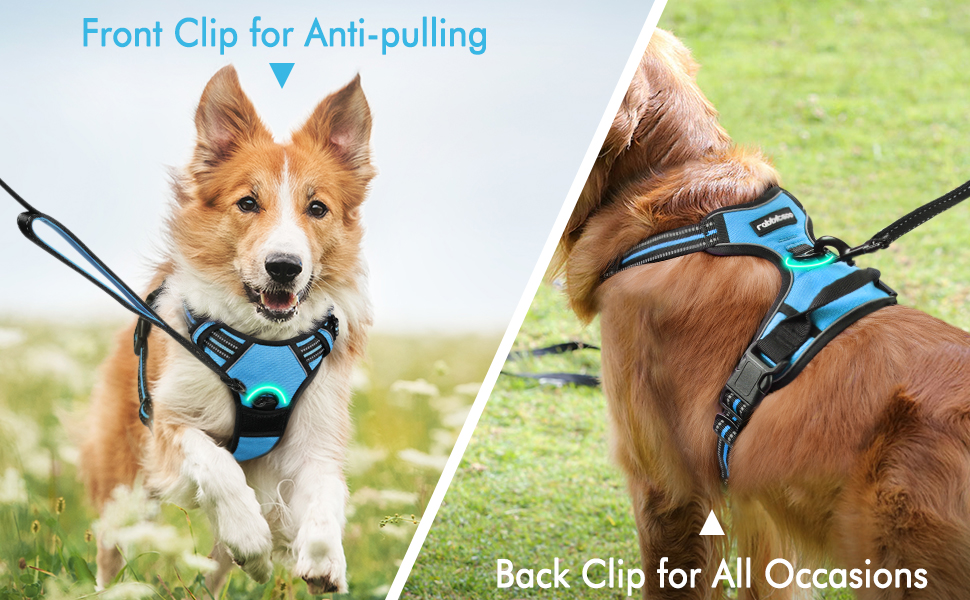 WillhappysDog Harness - Gain Better Control with 2 Metal Leash Attachments
The No-Pull Front Ring helps redirect your dog's forward motion when he/she suddenly pulls, which discourages pulling
The Back D-Ring is ideal for well-trained dog walks, jogging, or hiking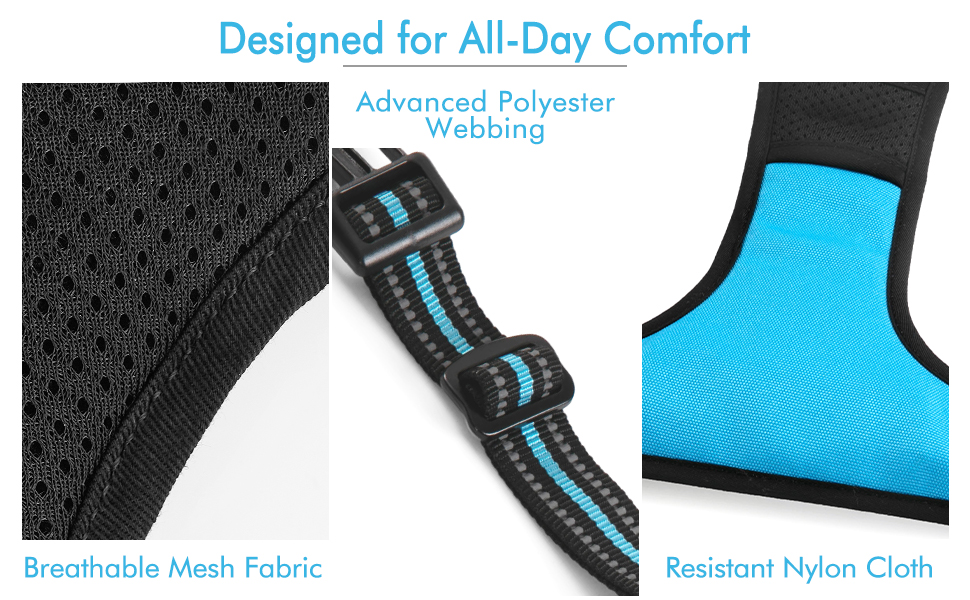 WillhappysDog Harness - We Care for Every Detail to Bring Ultimate Comfort and Protection.
Nicely Padded Air Mesh keeps your dog cool and cozy all the time
Resistant Oxford Material is ultra-durable and weather-proof for all-season use
The 4 Adjustable Straps allow you to create a perfect fit for your furry buddy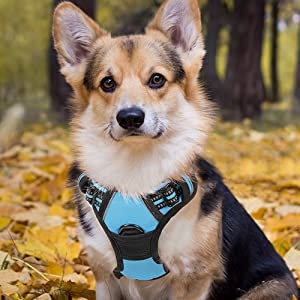 Willhappys Dog Harness - Let's Find the Right Size for Your Puppy!
Please use the exact Neck and Chest Girth measurements to determine if the dog harness would fit your furry friend.
Small: Neck: 13.8" - 17.7" (35 - 45 cm), Chest: 15.7" - 25.6" (40 - 65 cm)
Medium: Neck: 16.5" - 21.6" (40 - 55 cm), Chest: 18.9" - 27.9" (48 - 71 cm)
Large: Neck: 16.1" - 23.2" (41 - 59 cm), Chest: 20.5" - 36" (52 - 91.5 cm)
Extra Large: Neck: 22" - 30.7" (56 - 78 cm), Chest: 21.3" - 38.2" (54 - 97 cm)
Note: Please measure your baby carefully before purchasing.