Dog Prong Collar, Perfect Dog Training Helper
Does your dog always pull the leash so you have to follow your dog in a hurry?
Can't stop your dog to eat rubbish on the road when walking?
Are all training methods failing that make you desperate?
No worry, Dog Pinch Collars will help you solve all of them.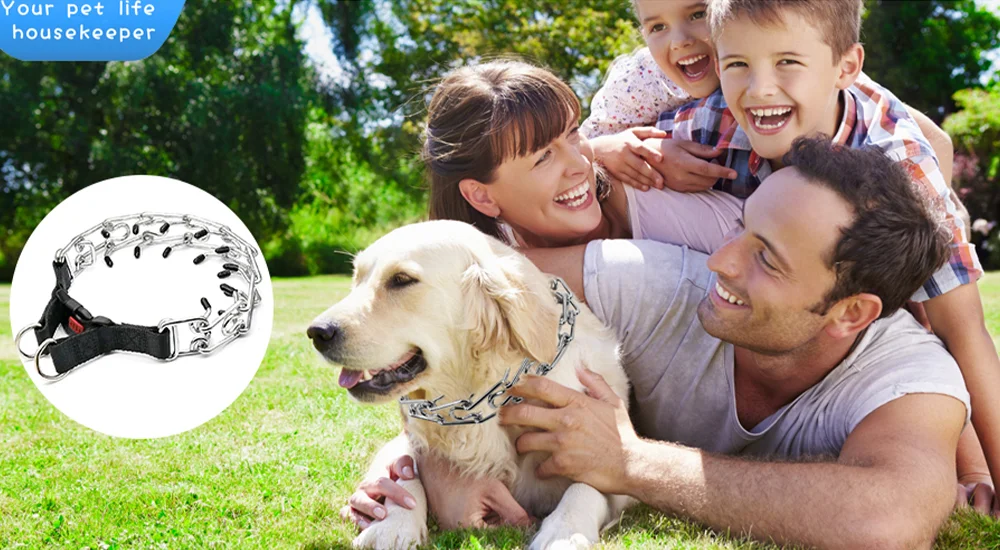 Dog pinch collar is an effective dog training tools to train your stubborn friend without producing any pain or injury.
A pinch collar, also called a prong collar, is composed of small metal rings linked together and each has a set of prongs that tighten and pinch your dog's neck( no pain) when it is being pulled by dog. Similar to a chain bracelet, can be adjusted by removing or adding the links. It simply pinches the skin on the neck, simulating the effect of another canine nipping at the neck.
Positive punishment is an effective training choice.
Love our dogs through knowing and training them!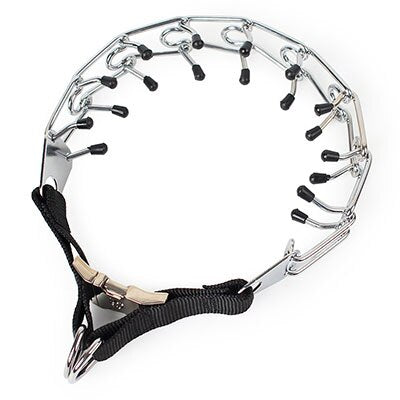 All Polished Surface
Argon welded and chrome plated for maximum strength and durability, nylon strap and durable D-ring make it a long lifetime to use. Secure and comfortable design bring better training experience.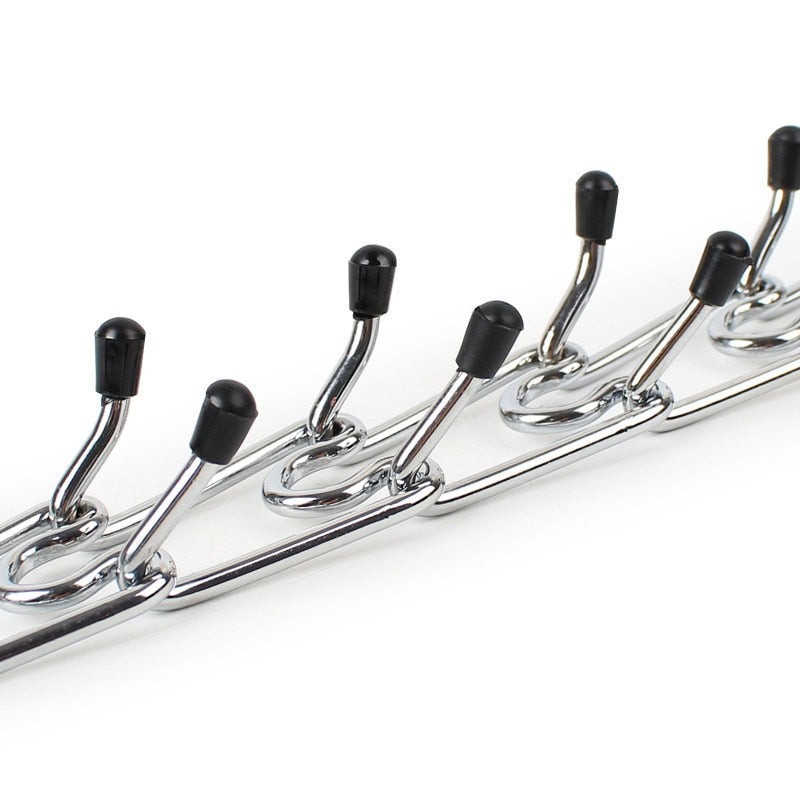 Smooth Rubber Caps
No sharp ends after wearing Rubber Caps, no harm for your dog's neck. If you need it to be more effective, you can take the caps off, but attention not to use it in that situation a long term.
Easy Release Buckle
High-strength quick release buckle, made of quality plastic material, hard to break for your dog, and easy to put it on/ take off, can unravel quickly for any situation.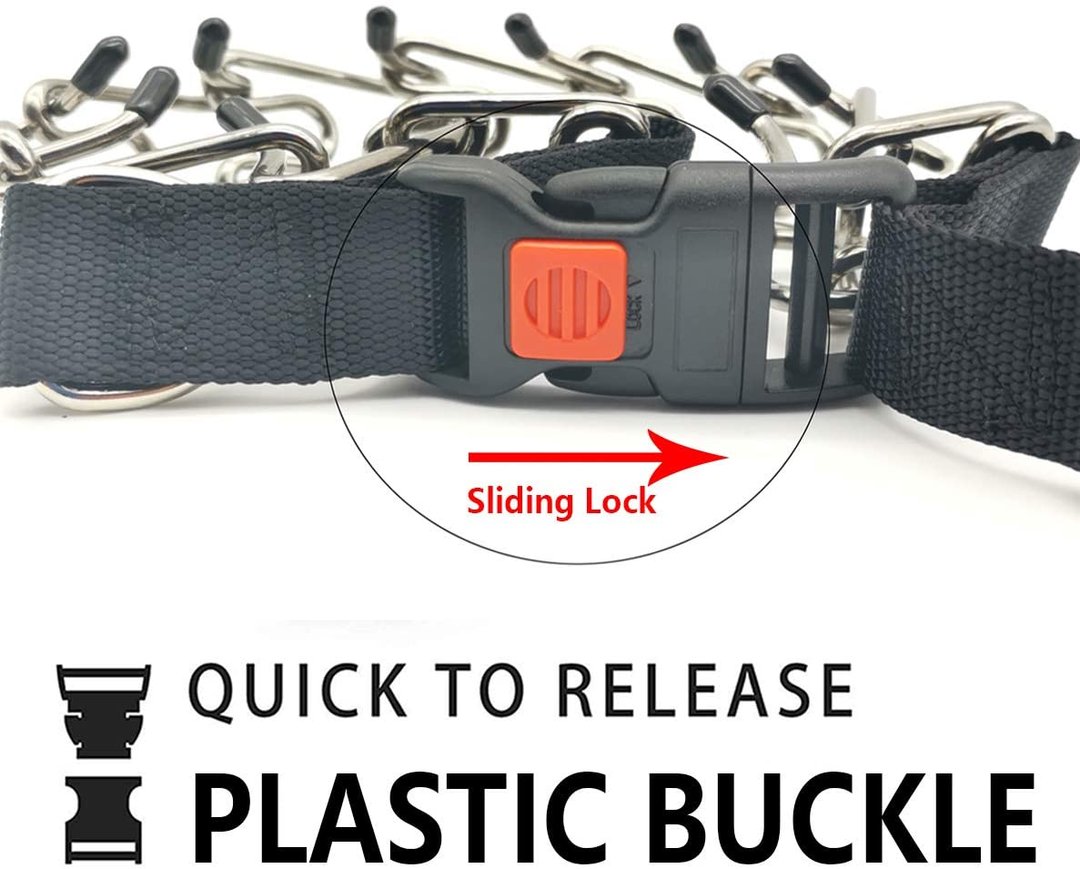 Use It Within A Reasonable Time
Prong collars are not meant for long term use. Once your dog has learned proper leash manners or no longer pulls and mastered good walking techniques, you no longer need to use the collar.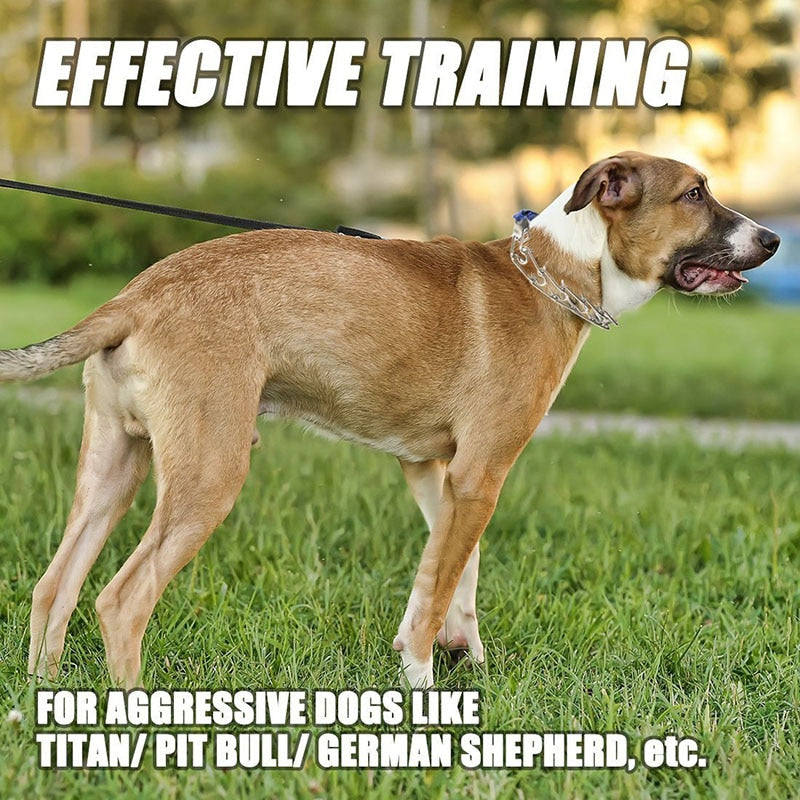 Dog Prong Collar for Small Medium Large Dogs
The design of this collar is based on dog's comfort and health, and on this basis, it is used to train your dog, so you can feel free to use this collar.
3.5mm Prong Chrome-plated collar provides maximum strength and durability

Smooth and rounded prongs to prevent injury - safe alternative to other training collars

Effective: You only have to pull the training collar and the dog will stop immediately.

Reasonable: Cost-effective for your wise choice!

Storage Bag: Very convenient to carry.