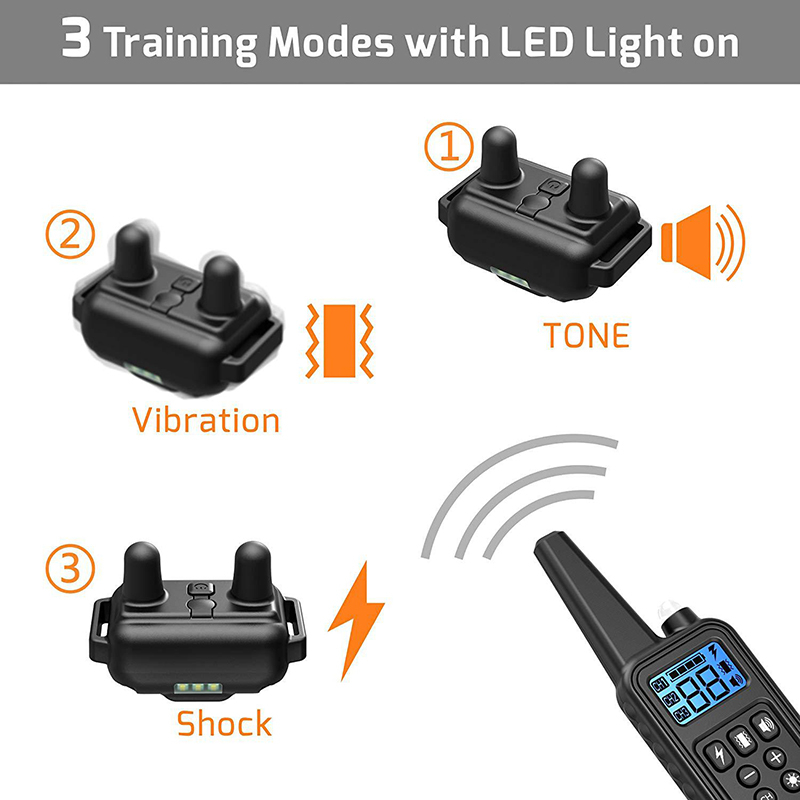 This fully waterproof e-collar is very popular with Dog Training Collars and pet owners. Its training systems will help you to control and train your dog in effective range by a series of functions, including vibration alert, sound warning, electrostatic punishment, etc.
Dog Shock Collar Trainers
are remote design, you can remote bark stopping, running about correction, easy calling back, biting, and fighting. It will be your good training assistant.
Main Features:
Fully waterproof design: the Dog Training Collars receiver has a super waterproof performance, so your pet can swim or walk in the rain with it
Adjustable levels: levels of vibration and shock are adjustable from 1 to 99, and you are advised to try levels gradually to find the proper one when using this pet training system for the first time
3 training modes: shock / vibration / sound
With blue backlight screen: can be used at night
Long-distance remote control: the remote distance is 800m (without any disturbance)
3 channels: there are 3 signal channels on the remote transmitter, and it can control 3 receivers of the same model
Auto power save automatic standby mode and memory functions
Adjustable collar size: the max adjustable length is up to 67cm, suitable for all size dogs
Note:
Please charge before first using
Eliminate one misbehavior or teach one obedience command at one time, if the training gets too fast, your pet may become confused and repel
Before using the shock mode to your pet, you should try vibration to your pet first
Observe the dog's reaction and make sure the training intensity not too much
Examine the contact area daily for signs of a rash or a sore.