Feed Full Love
We love pets, dive into pets, aim to make pets healthier than ever. Your furry friend deserves the best.
4-in-1 Luxurious Pet Bowl
4 functions to achieve exquisite dining. It integrates elevated food bowl, water bowl, slow feeder and automatic water dispenser. Meet the various needs of your pet feeding.
Easy to clean

Separation design, all parts can be easily disassembled, easy to clean without dead ends and prevent bacteria from breeding.

Automatic Water Dispenser

Whether you're at home or not, it automatically refills the water bowl and keeps the water clean.

Partition Design

The water bowl divider prevents cat from getting wet mouth and say goodbye to cat's black chin.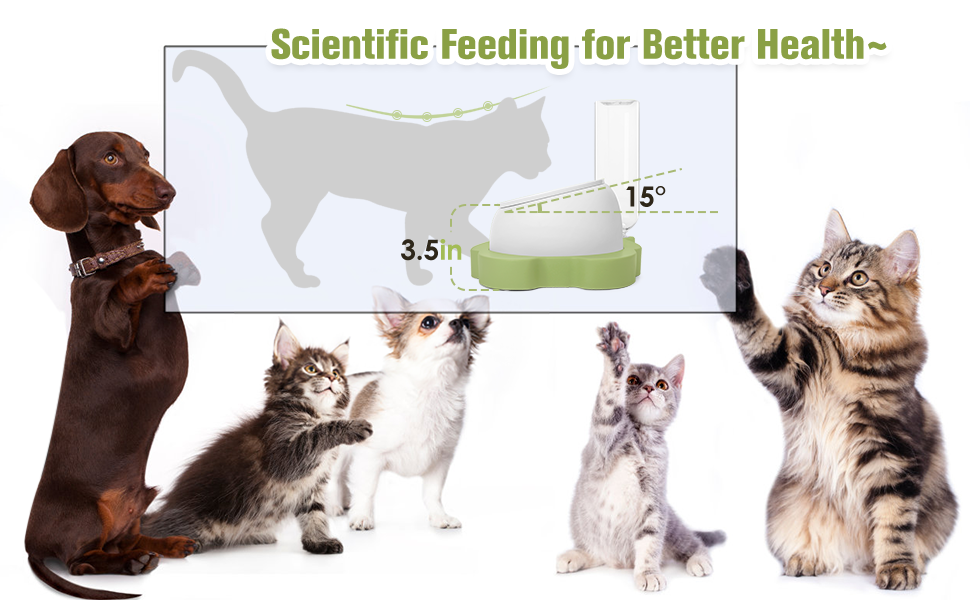 Premium Food Grade Bowl

Made of non-stick ceramic and smooth glaze, it is cleaner than plastic and stainless steel bowls, odorless and lead-free, making it a healthy alternative to plastic and stainless steel bowls.

Slow Feeder Cat Bowl

Effectively prolongs the feeding time of the pet, prevents bloat and reduces the burden of the stomach and improves digestion, at the same time, stimulates the pet's intellectual development!

15° Tilted Elevated Bowl

The 15° inclined platform and the reasonable bowl height reduce the pressure on the pet's cervical spine and back, bringing a comfortable eating and drinking experience for pets.
Include:
1 * Cat Food and Water Bowl Set