Warm tips
1. Not all of cats/dogs would love, but you can add some catnip or Jingle to attract your kitty/puppy.
2. Acitive mode would make some noisy on wooden floot.
Package
1* toys ball

1* usb cable

1* guide book

Motion activated wicked ball interactive dog toy, automatic wake up by dogs cats touched when owners out

Works 10mins and standby 90mins, automatic re-start rolling game when times up, touched actived by paws also support

Rechargeable battery inside, 2-3hrs charging, support the electronic ball toy play whole day with pets

Two modes available, esily open the shell to change the balls active rotating to teasing dogs or cats

7 cm in diameter! Great for small / medium dogs and puppy, cats also support. 30 days free return and wholelife technician support from SLUVOO

Auto off after 10mins rolling, let pets get rest.

Motion activated by dogs cats touched when they love this game.

Auto on when pets not wake it up, remind they time to play.

2-3 hours charge, get whole day funny (Under auto mode).

One key start, two mode available. Rolling in soft or active speed

DIY tails add on ball if need.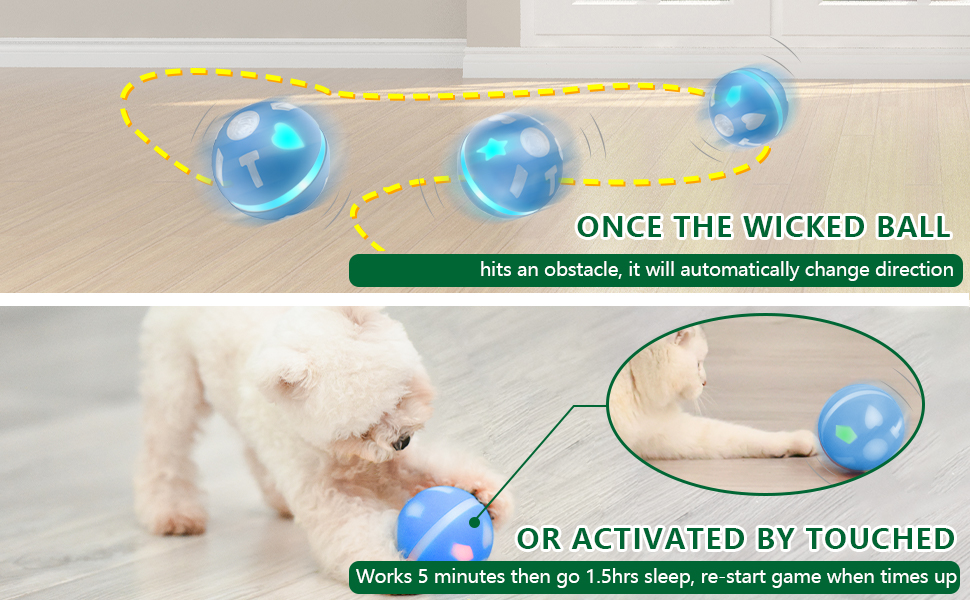 Question you may meet!
Q: How to let it work?
A: Open the outer shell that you will find the power button, Press it and you have 10s to close it. game will start.
Q: How to open it? I can't open it.
A: You can drop the ball from a height within 1.2 meters to help open the tight shell.
Q: How to charge?
Built in rechargeable battery, connecting the toy to adapter via USB cable come with box, fully charge for 3 hours and get funny with pets.
Q: How long can it works?
A: Theoretically, it can be used for 60-70 times in normal mode (restart every 1.5 hours), but due to the presence of touch activation, the usage time depends on the actual usage.
Q: How to make it active?
A: Turn on the ball and enter into Mode 1(Rolling), If you'd like to change to Mode 2(active rolling), please long press 5 seconds when balls on. And press again will turn off.