Grab your Discounted New Electric Dog Fence Waterproof Dog Training Collar Sound Shocked Collar Electronic Pet Fence Containment System for 1/2/3 Dog while the store

LAUNCH DISCOUNT

is on. Once we reach 300-unit sales, we will be increasing the price back.



This hidden W-227 fencing system is among the most reliable, cost-efficient pet containment systems available today. A buried wire transmits a harmless radio signal. When you dog approaches the boundary, the signal causes the dog's collar receiver to deliver a warning beep first. If your dog continues closer to the boundary, the system will issue a mild electric shock. If your dog continues further, the system will issue stronger electric shocks until your dog returns to within the boundary your have set up. Your dog will naturally seek to avoid correction, and is content staying within established boundaries.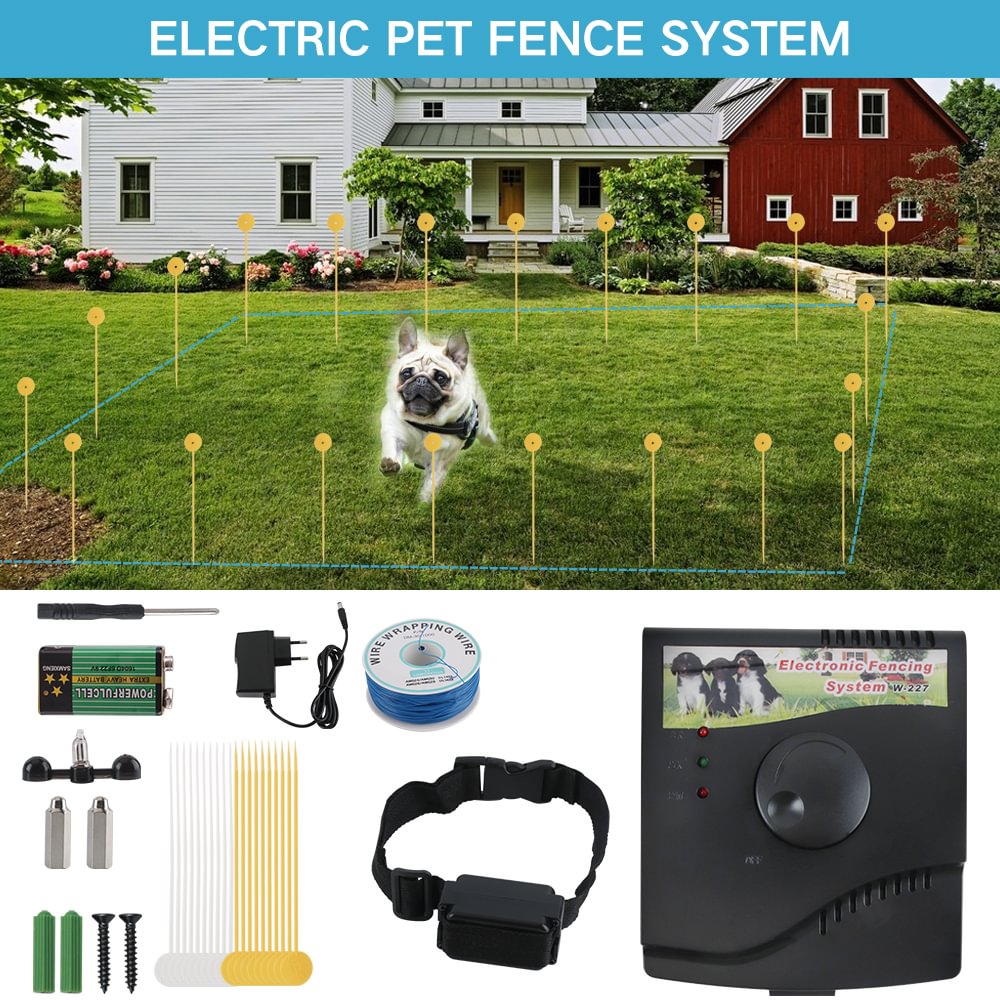 Main Features
1.Pulsed Proportional Stimulus—The closer your dog gets to the boundary, the more intense the electric shock will be;
2.Variable Field Width Control—Allows you to precisely control the width of the signal field;
3. Speed Detect Anti-Run through—The faster your dog is moving, the quicker the higher level of intensity is issued; 4. Built-in Lightning Protection—Protects transmitter from power surges caused by lightning strikes;
5. Multiple Collar Operation—Add as many collars as you like to contain as many animals you have. There is no limit to the number of collars it can control.
6. Up to 5000 square metre range (over 1.2 acre).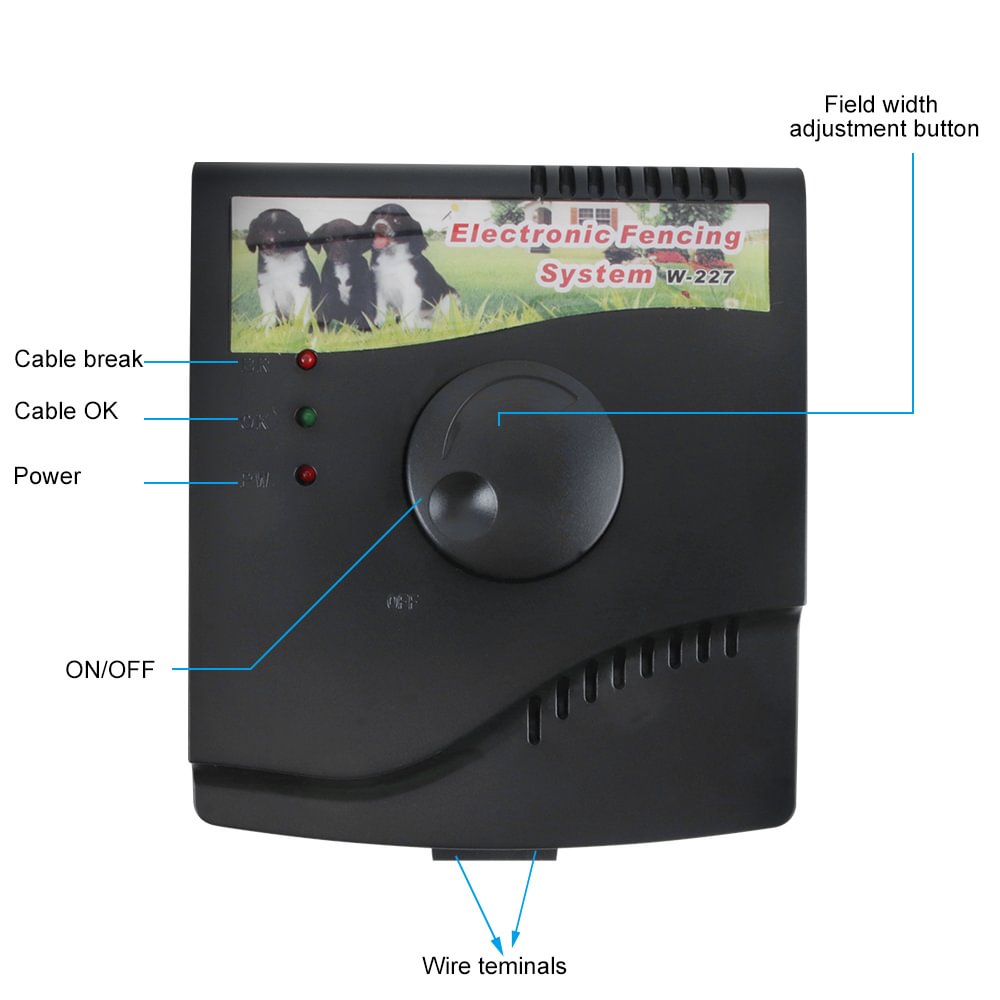 How to setup
1. Bury the wire(very easy to bury, only 1/4" underground in a very thin line) or simply fix the wire on the yard fence.
2. Plug in the power box.
3. Connect the perimeter wire to the power box.
4. Testing.
5. Put the receiver collar on your dog.
6. Train your dog by leading him around the perimeter. Let him experience the warning beeps & shock so he knows his boundaries.
7. Sit back and ENJOY your trained dog.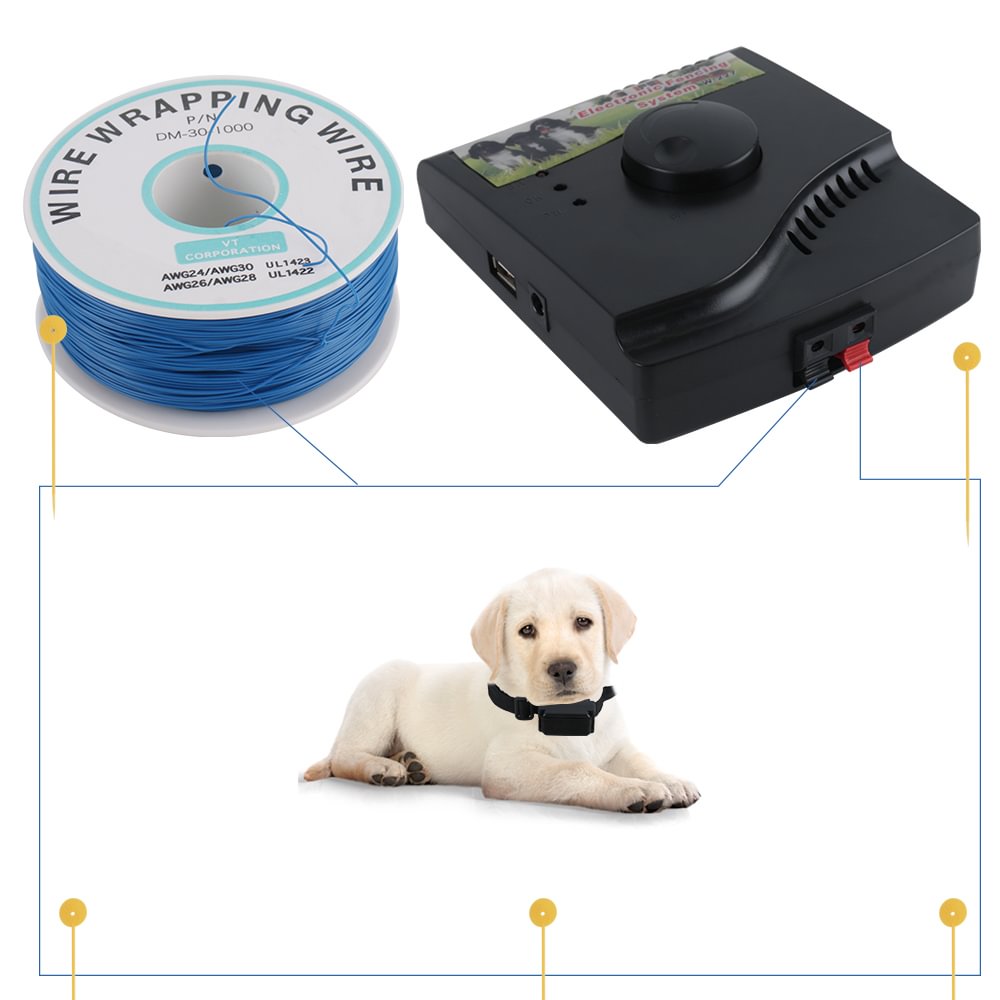 How to test
1. Receiver is fully charged. ( if the receiver run out of battery or low power, it will sound)
2. Transmiter plug in the power;
3. Press ON/OFF button of collar receiver to power it on and move the collar;
4. Slowly toward to the boundary wire. If the warning tone of"bi-bi"is issued;
5. Test shocked function. Place the LED test light on contact probes of receiver, the LED should light on in a few seconds.
6. Then you move the receiver collar away from the boundary, the receive will stop working once it is beyond the control range.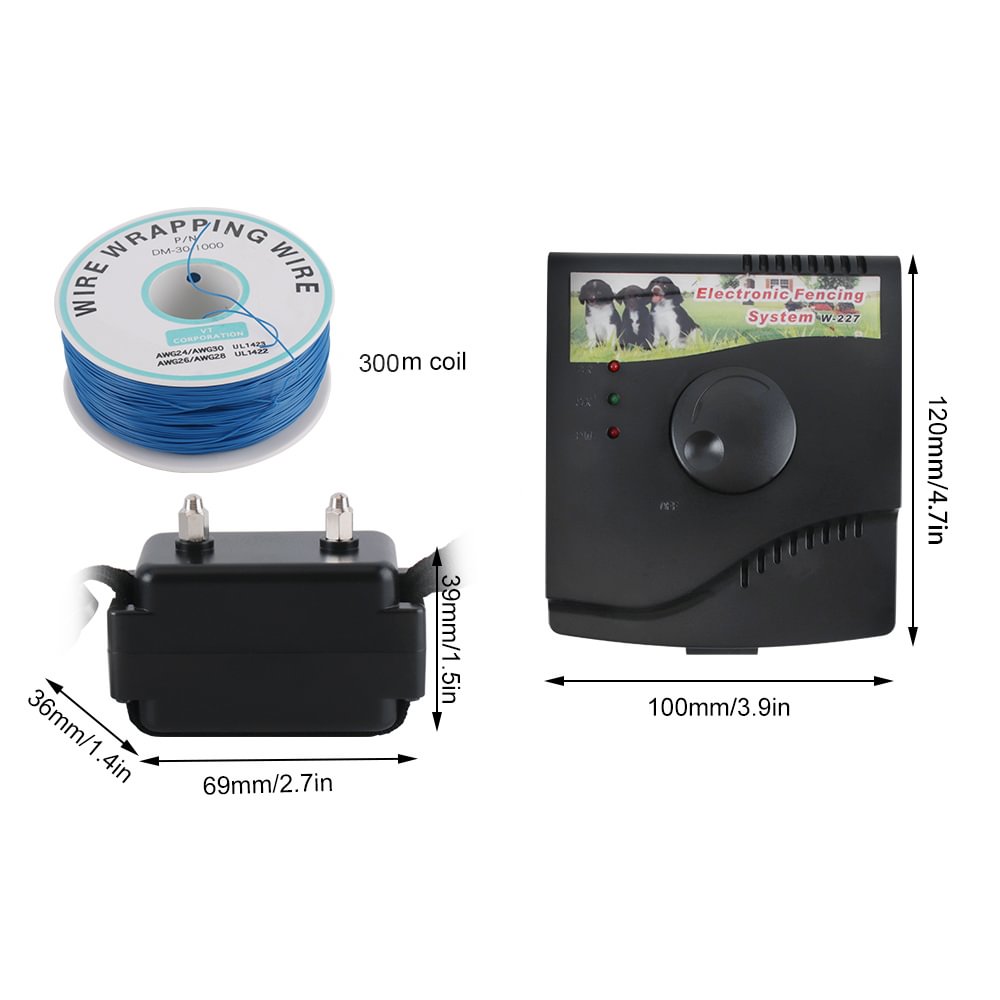 Pet Fence Kit for 1 Dog
1 x Indoor Wall mounted transmitter
1 x Power adapter
1 x Adjustable receiver collars
1 x 9V Battery
1 x Boundary wire of 300 meters
4 x Metal contact points (2 long + 2 short)
20 x Training flags
1 x Test tool
2 x Screws
1 x English User Manual