Element-Proof Lenses (Windproof, Waterproof, Dust-Proof, UV-Proof)
Thermoplastic Elastomer (TPE) Soft Frame
Adjustable Elastic Straps (Head and Chin)
Zipper Hard Case for Storage
When you are riding or driving outside, worry about your dog sticking his head out of the car window, because these sunglasses can prevent some small rocks or other things from hitting the dog's eyes.
Dog goggles not only protect the dog's eyes from wind and sun when running in summer, but also protect the dog's eyes from wind and sun when skiing in winter. It not only protects the dog's eyes from wind and sun in summer, but also protects the dog's eyes from snow and dust when skiing. , Anti-fog.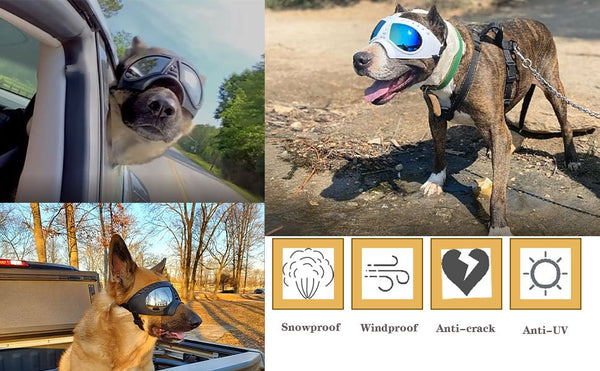 PatternSolid MaterialPolyvinyl chloride frame, Polycarbonate lens【A Perfect Fit】dog goggles are made of soft PVC material with good toughness which perfectly fits most dogs faces.
The adjustable strap in head and chin features with high-elasticity aims to let your pets wear the dog sunglasses in a comfortable and firm manner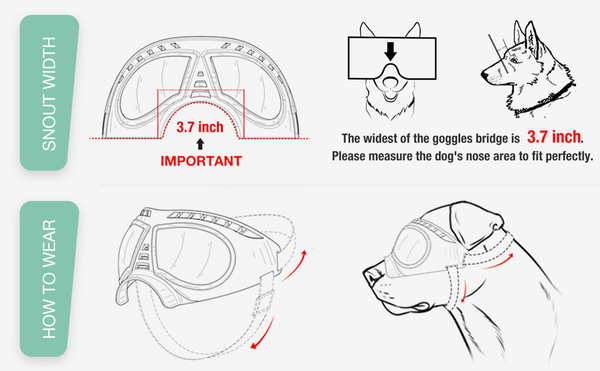 Fabric TypePC lens, PVC frame【Great Eye Protection】 dog sunglasses are not only water-proof, wind-proof and snow-proof in winter, but also its lens has coated with resistant-UV material, which is perfect to protect his eyes from snow, UV rays, wind, dust and fog when he is running in the woods or out for a car ride.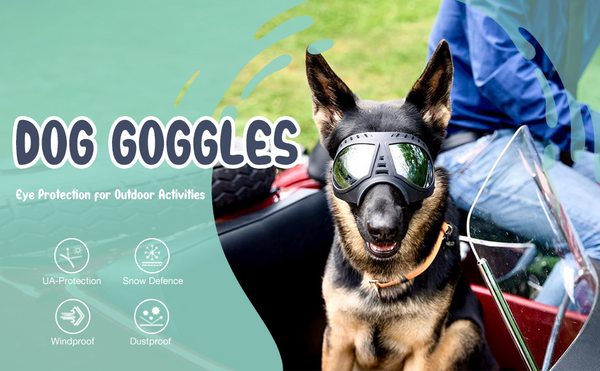 【Thoughtful Design】These dog eye wears designed with a vent that can send out vapor to your dogs. Besides, it comes with a luxury zipper bag for great protection of the goggles and easy storage. Great gift idea too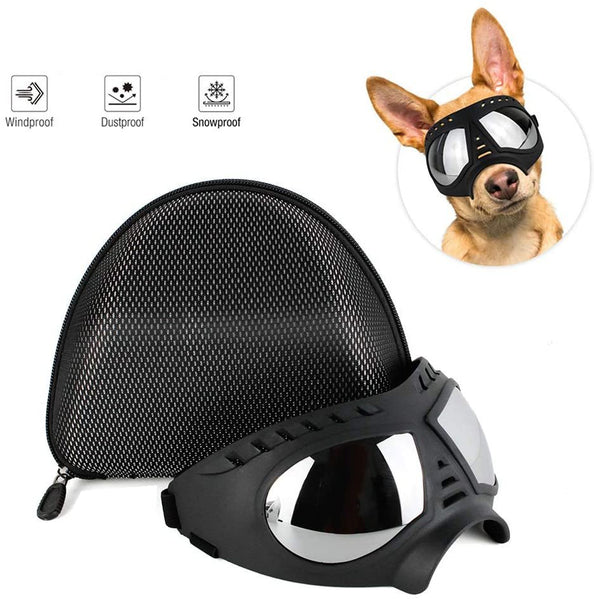 【A Cool Dog】These protective goggles will make your pet look very fashionable, handsome and cool and your pet will be drawing a lot of eyes while protecting the pet.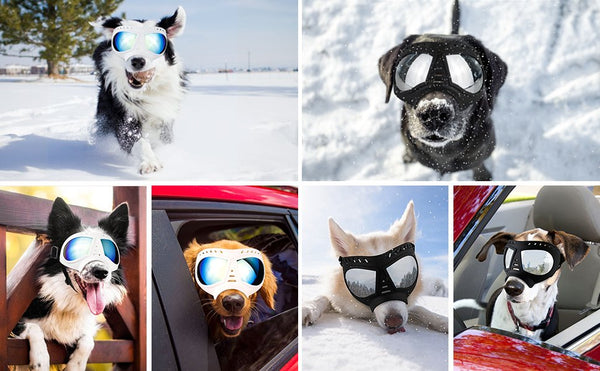 Specification
Large Size
Head Elastic Straps: 16" -21"
Chin Elastic Straps: 7"-12" (No Tensile Measurement)
Framebridge Perimeter: 12"
Perfect for longe snout dogs like German Shepherd, Gree, Husky, Alaskan Malamute, Doberman, and Shepherd dog.
Package:1*Outdoor Dog Goggles Anit-UV Sunglasses