Our Pets are Family and we know you want to do everything you can to keep them happy & healthy. This Dog Water Fountain helps you do just that: Your Dog will have so much fun playing with it while getting important exercise.
The Dog Water Fountain is a wonderful way to challenge, stimulate and hydrate your dog while they're having a blast!
Join Thousands of Happy Pup-customers & Their People who already love it!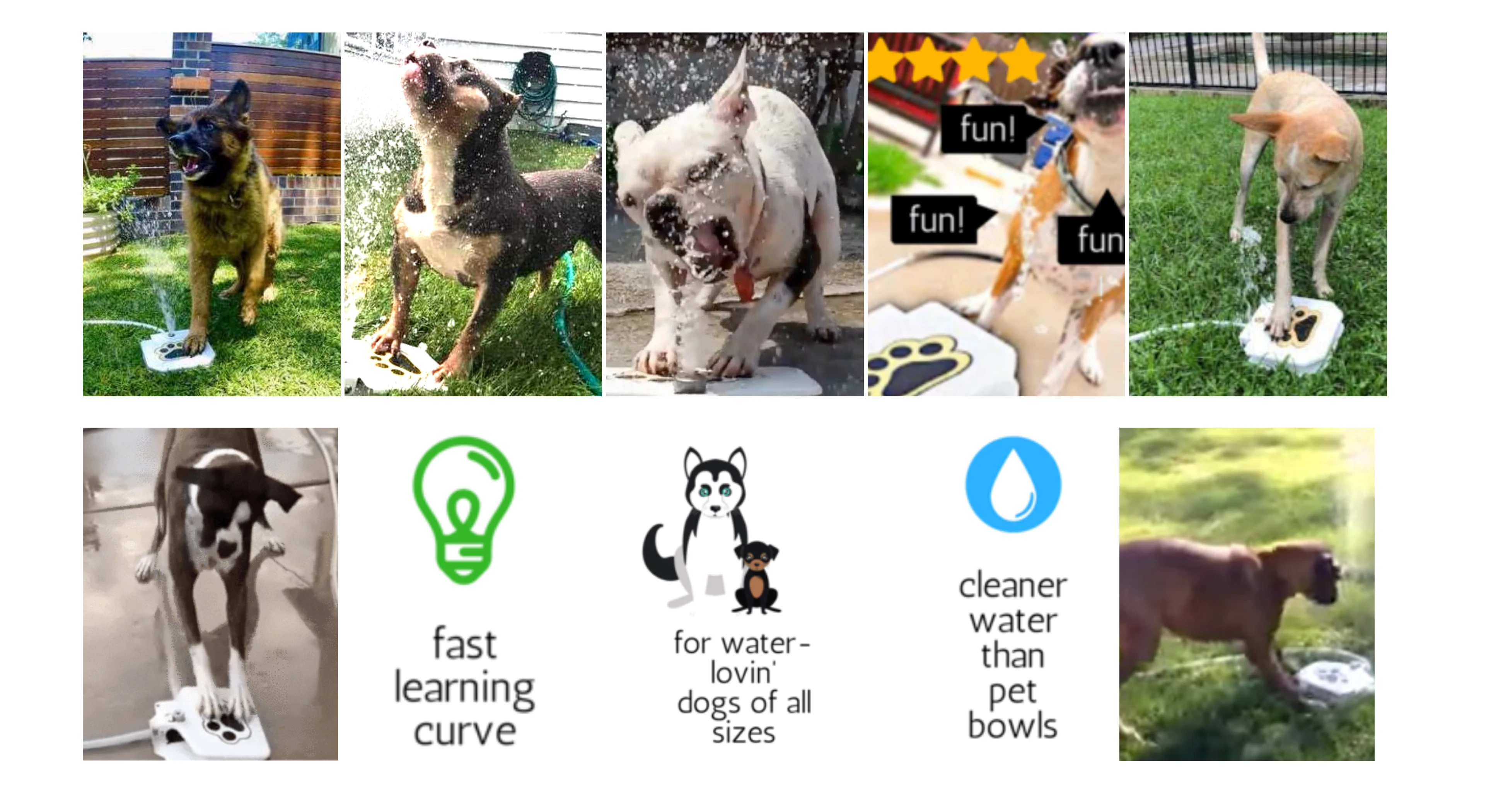 RELIEVES BOREDOM
REDUCES STRESS
IMPROVES YOUR PUP'S HEALTH!
It has a fast learning curve -- your dog simply steps on it to get fresh and clean water from the tap, eliminating exposure to water-borne diseases found in standing water in pet bowls.
It's made of stainless steel & strength - hardened polycarbonate, to withstand large dogs' weight on it. But, it only takes 2 pounds of pressure to activate, so it's fun for smaller pups, too.
It's also loads of fun for your kids to run through, with their best canine friends!
OUR DOG WATER FOUNTAIN IS SIMPLE AND EASY TO USE FOR DOGS OF ALL SIZES AND BRAIN-POWERS 😁
THE WATER FOUNTAIN EXPERIENCE
Show your pup how to step on the pedal, so they'll see how fun the shooting spray of water is.
For best results make sure it doesn't go directly into the dog's nose or face, which may be too surprising when unexpected.
Once they see the water jetting up, their chase responses will be activated and they'll be interested and excited for more.
S/he'll stick their nose in, take a drink and quickly learn they'll also stay cool and hydrated by activating the delicious freshwater flow.
They'll continue to step on it repeatedly, trying to bite and "catch" the spray!
Our customers rave how brilliantly fun and useful it is, for such an attractive price. You're going to love watching your smiling pup playing with his new Dog Water Fountain!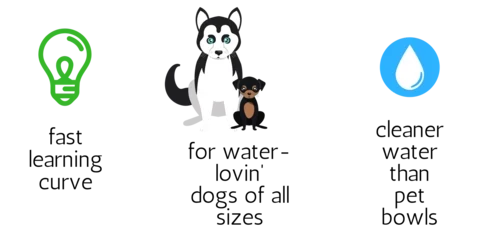 VERY IMPORTANT: If the fountain has been sitting in the heat, you must let the water run until it's cool, to remove stagnant water and prevent burning. Don't let water stand in the hose as it can degrade the components.
THE WATER FOUNTAIN SETUP
Push the open end of the braided hose through the hole at the back of the fountain and onto the barbed connector at the rear of the valve body. Screw the other end of the hose onto your outdoor faucet or garden hose.
Turn on the faucet part way. You may also wish to use a "Y" adapter from a hardware store to attach the hose to the faucet in order to allow the use of the faucet for your main hose.
Remove the air from the hose by depressing the paddle on the Fountain until only water comes out.
Water standing in the hose can be heated by the sun. Let the water run before each use to ensure it's cool.
Place the Fountain in a shaded area or drain it when not in use. This will prolong hose life.
Be sure to disconnect during frigid or winter weather - Freezing will occur and cause possible damage to fountain and or pipes.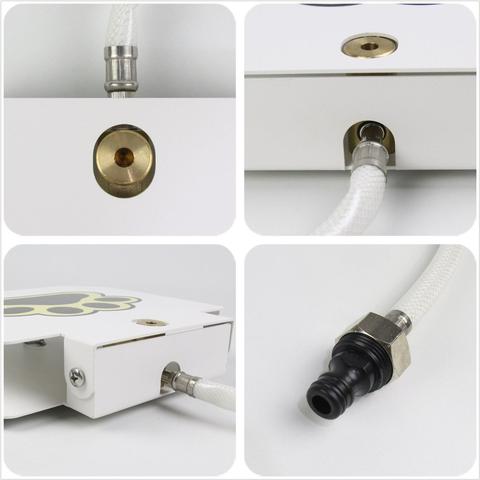 PRODUCT SPECIFICATIONS
Strength-hardened polycarbonate & stainless steel
No batteries or electrical cord required
Hose Length: 40"
Product Size: 8.6" x 8.7"
Product Weight: 3.8 lbs