Why Your Dog Needs This Toy?
This is a multifunctional dogs food dispenser for small / large breed that combines function of pet tableware and pet toy.This is not only a tableware product that can slow food leakage ,but also an educational IQ toy that improves dog`s intelligence.
Product Details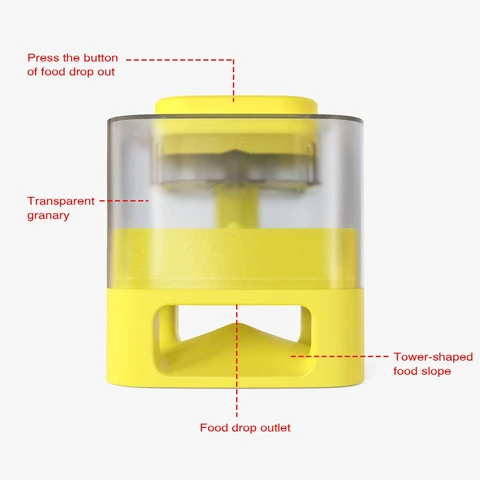 Fun Feeding - Dogs interactive treat toy is a hand movement toy that can load with pet treat, treat falls out to reward pets, increases they interesting to keep playing the food dispenser toy indoor, interactive games for two dogs . New design to make your dogs active, happy and healthy.Reduce destructive behavior.
Transparent Granary - Transparent food container and leaky holes, make the dogs-food visible and sniff able to dogs, will be easy to get the dog attention and play feeder Toy with other dogs .
Improve IQ - Your furry friends get smarter as they play with this IQ interactive dog food dispenser toy ,they will learning how to push switch to get treats to fall out.
Food Catapult - At first : Your need teach your dogs press the button of food drop out ,the button is easy to press .More exercise will help recovery, and indoor activity will make up to less of out-door opportunity when you not have enough time to walk the dog .
Design of Anti-Falling - The dog food dispenser toy have 4pcs suction cups and 4 non-slip rubber pads on the bottom,the suction cups can be correspondingly fixed inside the card slot at the bottom ,which will not knocked over by dogs in daily use .
100% Satisfied Guarantee: We are committed to providing customer high quality products and the best shopping experiences. If you meet any issue, just send an email to us and all issues will be solved within 24 hours.
6 Reasons Why Dog Owners Love it