Feed Your Pet On Time!
Too busy at work to care for your pet to feed them? Our Pet Feeder helps you to nourish your pets with your settings of customizable mealtimes and portions. With this fully programmable Dog Feeder, you can quickly set up your furry friend meal schedule based on your pet age, weight, or activities.
Besides, our Automatic Feeder is perfect for some pets that need to help with weight loss or portion control and have strong connections by feeding calls via your voice even when you are away. Our Auto Pet Feeder will fuel on time and keep your pet healthy.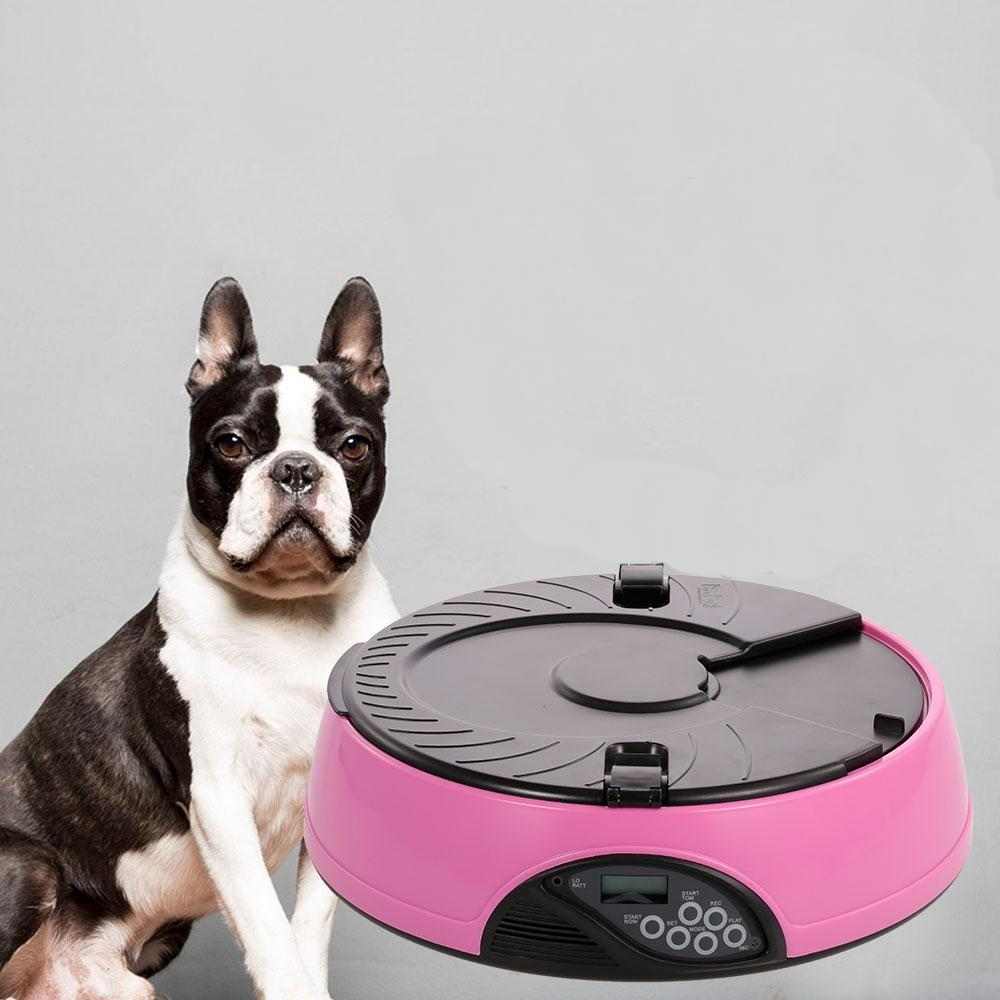 Product Highlights
Scheduled Pet Feeding- Our Smart Pet Feeder can be schedule to feed your pet up to 6 times per day as there are six trays built inside the automatic feeder. Each of the six trays can hold up to 1 cup per tray.

Audio Recorder- We have added an exciting feature that allows you to record your voice. Your sound will accompany your pet so they will not miss the meal when the food is ready.

Portable- Our Automatic Pet Feeder is portable as it operates on 4 C size batteries. You can keep it in a place of your choice, be it your RV, at home, or work. It also has an extended battery life and is very efficient at using battery power.

Convenient-

 

Having our Dog Automatic Feeding machine, you will not have to worry about finding someone reliable to feed your pet when you need to be away for a while. Our product is a solution to you not having the time or being too busy to take time out of your day to feed your dog or cat.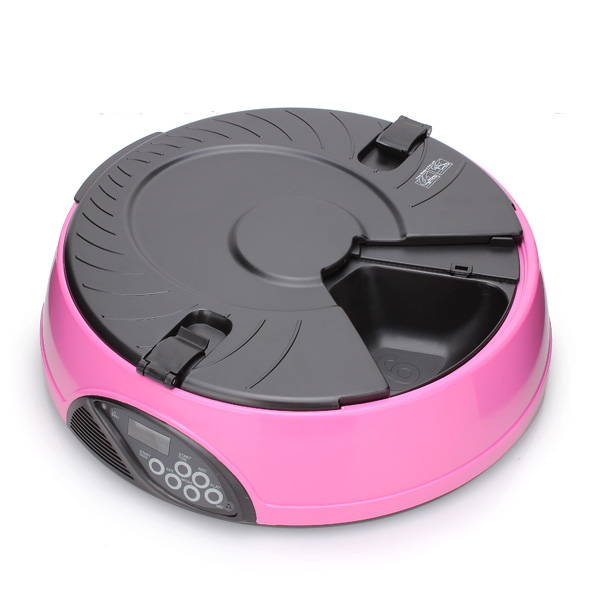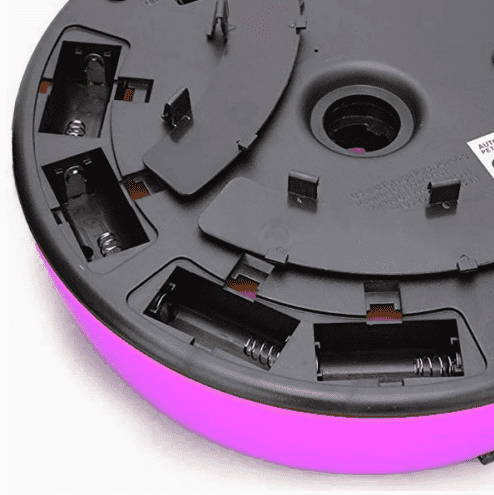 Easy To Clean
6-slot food tray is dishwasher friendly and easy to clean. Just remove the food tray and wash it in warm or soapy water.
Powered By Batteries
Our Dog Self Feeder has powered by 4 C type batteries that are easily replaceable and highly efficient.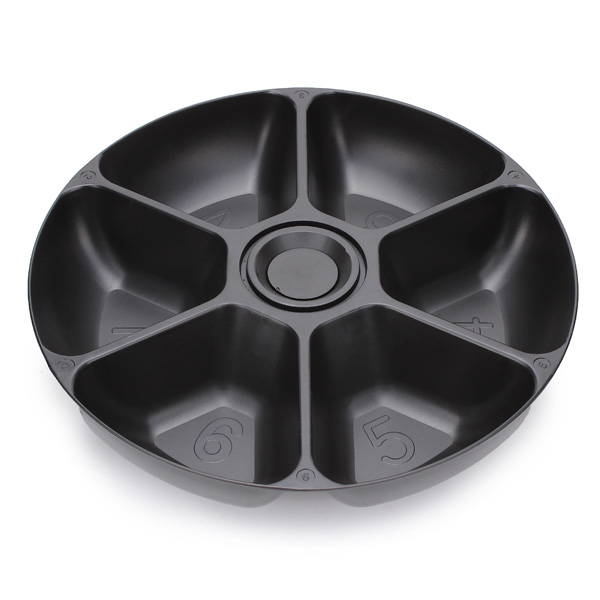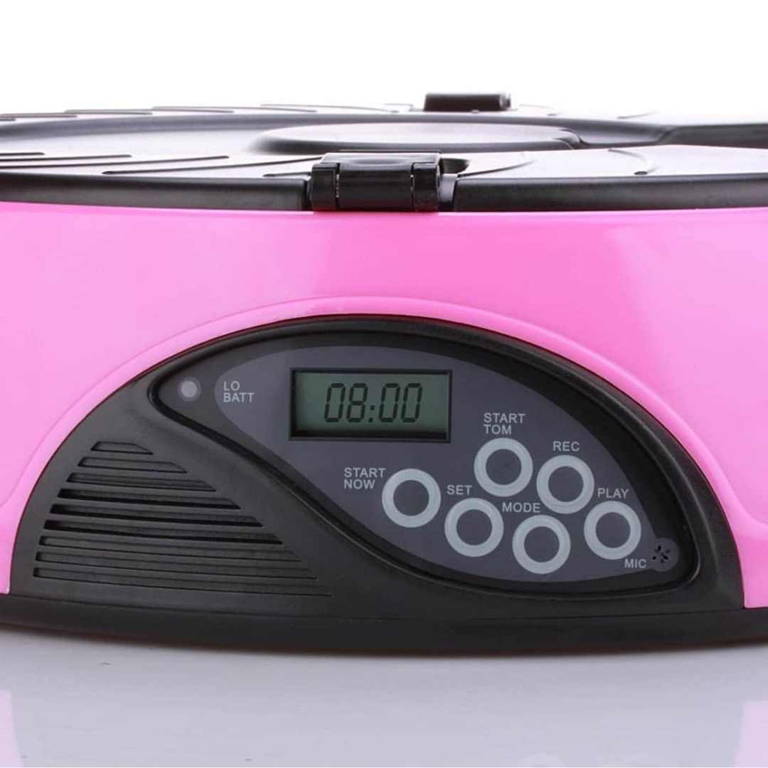 Separate Compartments
Our Dog Feeding Station can hold up to 6 meals before needing to refill the tray, with each meal slot holding up to 1 cup of pet food.
Control Panel
Our Automatic Dog Feeder With Timer has a user-friendly interface. All product features are accessible through the control panel.



How does this 6 Meal Pet Feeder Work?



Easy Programming!
Programming is easy with our included user manual. Our feeder has a food tray with six slots. You can set 1 meal a day for six days, or even six meals all in 1 day. Besides this, you can schedule food timing through the control panel.
Simple, Secure Set-Up!
Two locking tabs on each side of the lid, along with our locking slide cover, help keep your pet scheduled meals safe from being eaten early by themselves.
Cleaning is a Breeze!
Each feeder has a removable slide cover, top lid, and 6-slot food tray for easy cleaning and refilling when needed. Just remove the Food tray and clean it in warm, soapy water.