you can easily prevent clutter and protect your floors with this beautiful and easy-to-use cat mat!
This problem is a thing of the past with this ingenious waterproof cat litter mat. Due to the ingenious construction, the cat litter, which sticks to the paws of the cat when leaving the toilet, remains in the mat. Because it has a two-layer system that captures all tiny granules. You have no chance of falling on the floor!
Keep your floor clean, no more falling cat litter all over the house after using our cat litter mat! And you can recycle the falling cat litter, save money and be environmentally friendly.
Easy cleaning
The cat litter mat is large and prevents garbage from running or scattering across the floor to minimize the spread of bacteria and maximize cleanliness. It is completely waterproof in the event of an accident, traps dirt between two rubber layers, keeps your house clean and works effectively with all types of cat litter!
Simply fold the two layers and dispose of the blocked waste in the waste box. This saves time and money!
Unique design
Designed by Diamond Honeycomb, the mat holds small pieces of litters that have fallen between layers and automatically collects waste when cats leave their litter box.
Soft surface
The durable rubber is safe, non-toxic and absolutely animal-friendly. And because it is particularly hard-wearing and soft on its small, padded feet, the smooth, comfortable surface will make it easier for your furry friends to get in and out.
More application
Each size mat supports all types of cat litter including clay, crystal, corn, lump, wheat and pellets!
Non-slip pad
This mat stays where you put it! Continuously catches litter and stops when your cat has climbed in and out of the box all day.
Waterproof / urine-tight layer
The lower layer is waterproof so that no liquid can run through. Protect your wooden floors and carpets from bad and persistent urine stains. Regular cleaning with running water is recommended and super easy!
Universal cat litter mat
Each size mat supports all types of cat litter including clay, crystal, corn, lump, wheat and pellets!
Super thick and heavy
Our mat has a very durable back of outstanding quality! In contrast to thin, fragile mats, they do not tear when shaken or washed. It even withstands cat's claws.
Enjoy an "odorless" home
Our BPA-free and 100% environmentally friendly cat mat is also odor resistant! Antibacterial silver ions fight the smells of smelly cat litter. Regular cleaning with running water is still recommended and it is very easy, and the honeycomb top layer is designed to safely contain water. This way, parquet and carpet are protected from unpleasant urine stains.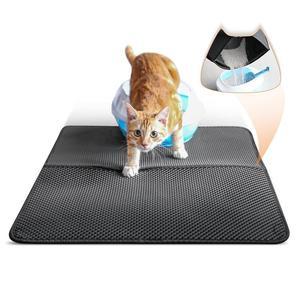 advantages
No more vacuuming, less cleaning up and easy maintenance

One-step cleaning - cat litter is trapped inside the mat and held there until you pour it back into the litter box.

 

The 2-layer structure of the mat creates a large pocket with an opening for pouring out the litter.