Royal Pets House Dog Floating Interactive Football with Grab Nylon Tabs | Ideal for Water Dogs games | Indoor & Outdoor BEST Pet Summer Toy 2021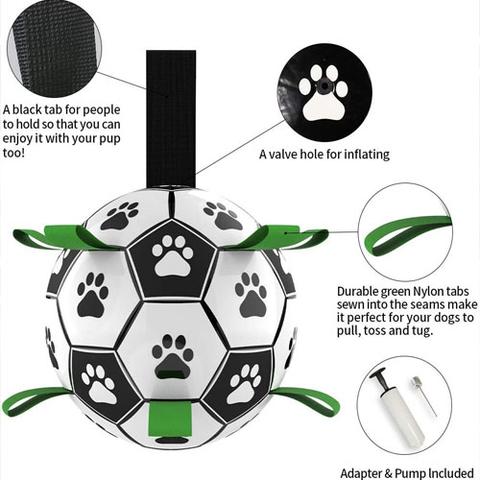 INTERACTIVE FOOTBALL

 

- This interactive football for dogs floats on the water and is therefore ideal for playing in swimming pools, lakes, beaches and open parks. This is an ideal dog toy if you are hoping to surprise your dog and enjoy each other's company actively. The toy is liked by many dog owners and most importantly – dogs!
STRONG MATERIAL

 

- This stylish football is made of strong material that will help it last for long period of time. In addition, football has nylon tabs carefully sewn into seams, which helps create erratic bounce that dogs love so much. Also, due to its unique design, it is easy for dogs to fetch, toss, tug and retrieve. We have also designed a long strap for you to hold the football while playing with your dog.

IMPORTANT -

 

This 15cm (6inch) football is great for small, medium and large dogs, but not for aggressive chewers. Please remember: this interactive football is designed as a play toy only – it is not a chew toy; therefore, please store it safely when not playing with your dog. Although this football is made from solid material, it is not indestructible – so, if you want it to last longer, please do not use it as a chew toy and always supervise your beloved furry friend when playing.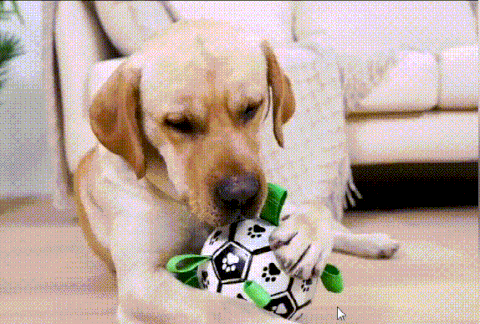 Interactive Floating Football for Dogs
This interactive floating football for dogs is specifically designed to activate your dog's natural chasing instincts and build a strong bond with your beloved dog. This unique dog toy is made of durable high-quality material. Also, it floats on the water, which makes it ideal for dogs who love water and bounces erratically, which activates dog's natural chasing instincts. We designed it in a unique way, so you can toss or kick the ball while your dog is able to retrieve it in a comfortable manner.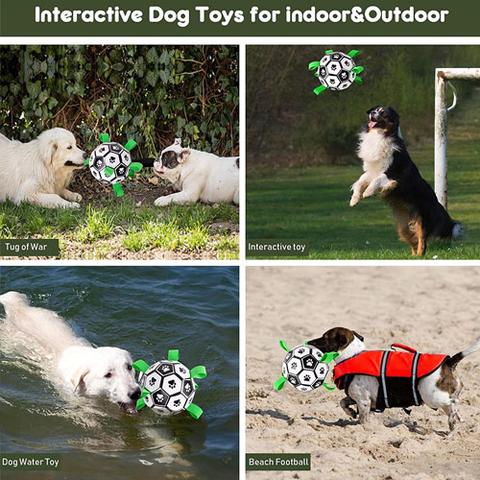 Promoting Indoor and Outdoor Interactive Play with Your Dog
If you are looking for a dog toy specifically designed to increase your dog's physical activity – look no further!
This interactive football for dogs is 15 centimeters (6") and comes with a pump and needle kit. Due to its proper size, this toy is suitable for dogs of all sizes and breeds. Although this interactive football is made of durable and high-quality material, it is not designed as a chewing toy – so, if you want it to last longer, please store it properly while your dog is not playing with it. Also, in order to prolong the life of this toy and keep it clean and nice, rinse and dry it after each play.
The interactive football for dogs is a great gift for any dog – most active dogs love playing interactive games with their loving owners. Most active dogs cause a lot of trouble and mess due to constantly running around the house and making mess while playing with the household accessories – this will no longer be an issue, if you keep him or her active with this interactive football dog toy.
In order to made this interactive football for dogs, we used high-quality pure cotton yarn rubber liner, plus a protective layer to protect the liner – so, it will be difficult for your dog to destroy it. Also, durable, high-quality nylon tabs are sewn directly into the seams of a football, making it easier for your dog to retrieve it.
Interactive Floating Football for Dogs – Enjoy Your Time Together Actively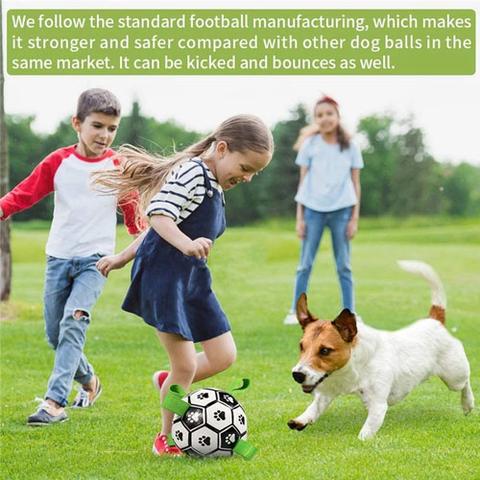 6inch is also suitable for us to play
The 6 inch dog soccer ball can lets we and kids can play like a normal soccer ball with dogs, dogs will like to chase it and run on the lawn to Free the Animal.