- Dog Car Hammock with side flaps
- Waterproof and heavy-duty perfect for dogs, kids
- Happy travel together with your pets
Make every road trip safe and comfortable for both you and your dog!
No cleaning up mud, water, and urine
No dog hair everywhere
Keep your car clean
Keep your dog safe while driving
Take your dog everywhere with you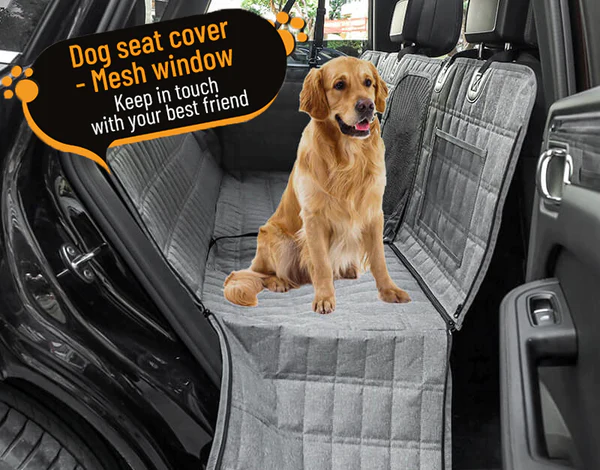 3-in-1 function meets different scenarios:
Hammock style offers all-round protection
The trunk style gives a large space
Bench style allows sharing seats

Feature:
The back-seat cover for pets is produced with 4 layers:
Premium 600D Oxford waterproof on the top.
Oxford 210D with additional PE waterproof coating.
PP cotton material for an impermeable, waterproof layer.
Rubber non-slip layer on the backside.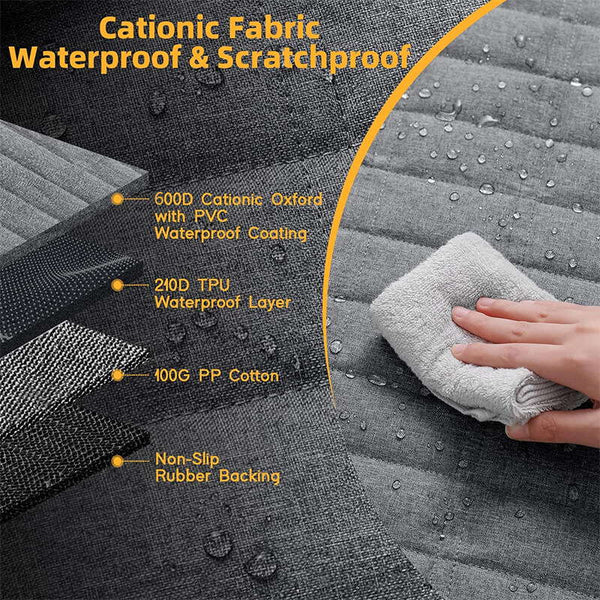 Durable & Comfortable:
This dogs back seat cover is made of high-density oxford cloth and high-quality PP cotton which gives a comfortable feeling. Durable heavy stitched seams prevent rips or tears from dog claws, ensuring great protection and long-lasting use.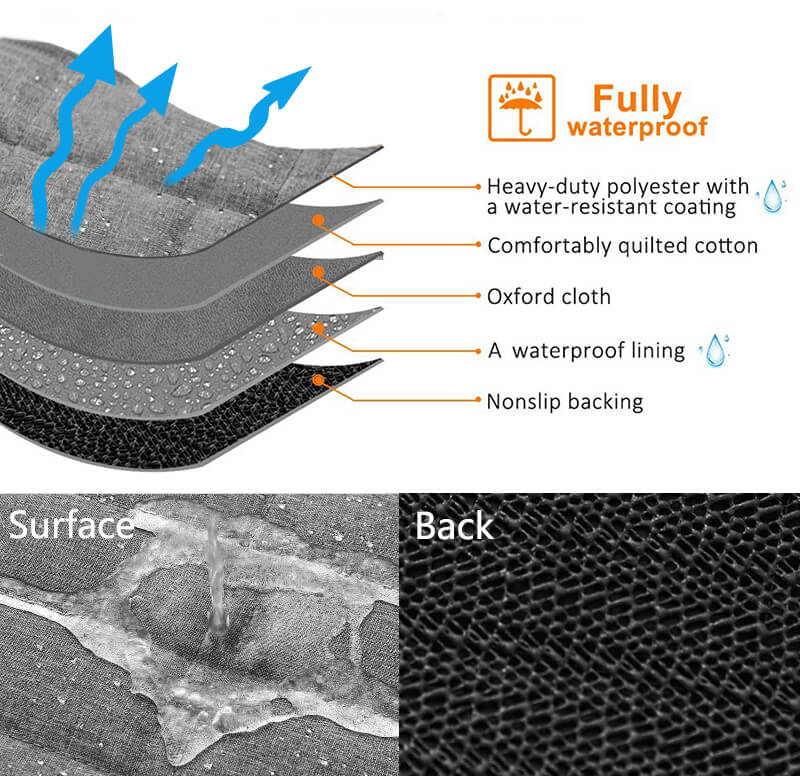 Premium Quality with Luxury Fabric:
The dog car back seat cover is made of 600D extra high-density oxford material. It uses double reinforced stitching which is nonslip and waterproof for premium quality and excellent protection for back seats.
Dog Car Seat Covers with Side Flap:
The seat cover for dogs comes with 2 short side flaps. Well, protect car back seats from dirt and water.
At the same time, this car dog hammock also protects your dogs - the back seat cover can be used as a car hammock for dogs. Provide great protection for your pets.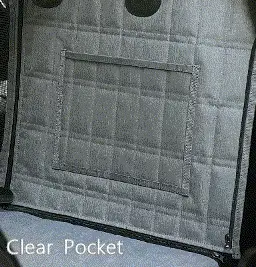 Visual Window & Pockets: The dog seat cover with mesh breathing window provides great air circulation for your dog. Allows the dog to see you clearly through the window, which helps your dog to reduce anxiety and stay calm when traveling. Our dog car seat covers extra storage pockets that can store your pet's food and toys. I guess playing a dog's favorite video in the transparent pocket will make it happy in travel.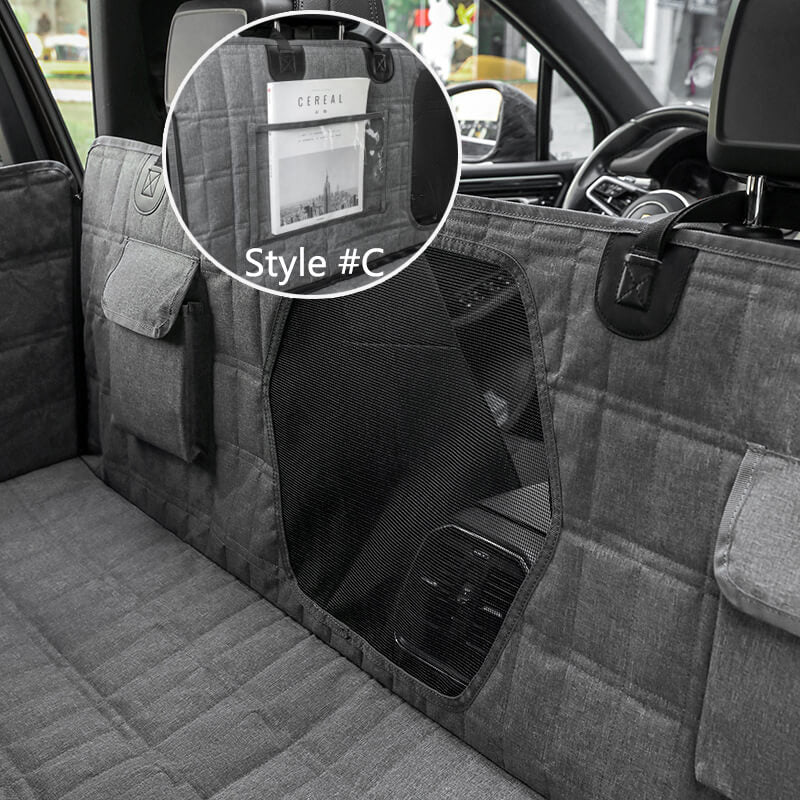 Maximum Air Circulation Mesh Window and Multiple Pockets:
The dog car seat cover comes with a visible breathable mesh window for great sights & great airflow, helping reduce your pet's anxiety during the trip way.
There are also storage pockets and a see-through tablet computer protect pocket on either side of the mesh window to store your bottles, dog treats, and toys.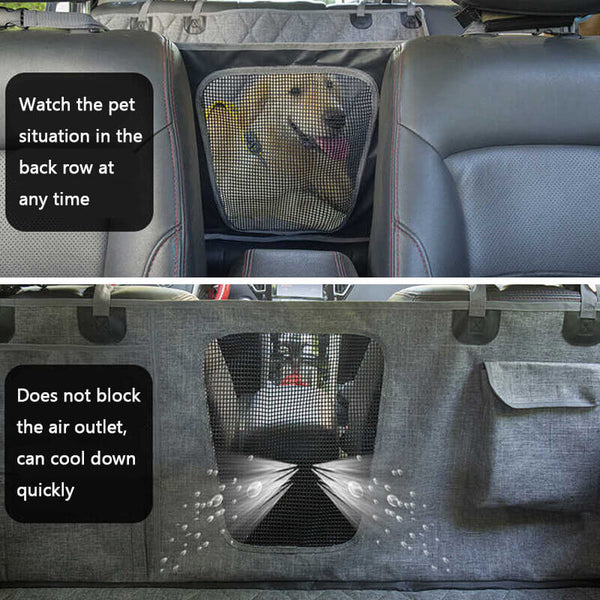 Easy to Install & Clean:
1. Snap the buckle straps around your car's headrests
2. Tuck in the seat anchors
3. Zipper up the side flaps.
4. Clean off stains or dirt with a piece of cloth or vacuum. Machine washable in a gentle cycle.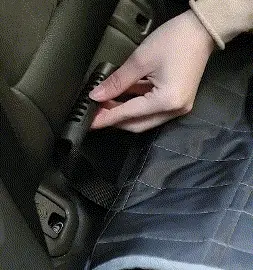 The A-style dog car seat covers do not include a detachable zipper.
This B-style truck's pet seat cover for the back seat zipper can be separated, so people and dogs to sit together. (Semi-detachable zipper)
The C-style back seat pet cover for dogs' zipper is completely separated that can be used as a dog back seat cover protector. (Fully-detachable zipper)
Size ( include side flaps ): 54"W x 58" L (Compatible with: Car, Trucks, SUVs, etc)
Package Includes:
1 pc × Dog Car Seat Cover
1 pc × Dog Car Leash
2 pcs × Side flaps lanyard (A not included)