Let your pet have the freedom of your yard without the fear of them running away.
The #1 Best Selling Wireless Dog Fence of 2021
Your yard might be small. But that doesn  mean you have to keep your pet on a short leash. exclusive Wireless Plus technology lets your dog or cat play right up to the edge of your property. It has an adjustable operating distance of 500m, that's 60% more distance than most wireless dog fences, making it the perfect fit for tight spaces or uniquely shaped lots. So, relax. And let your pet make the most of your (not-so-square) yardage.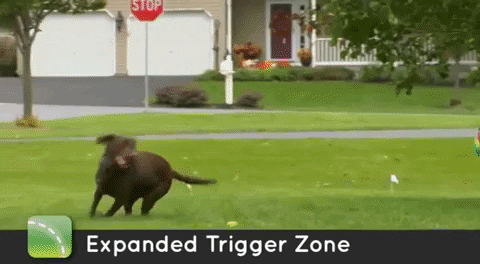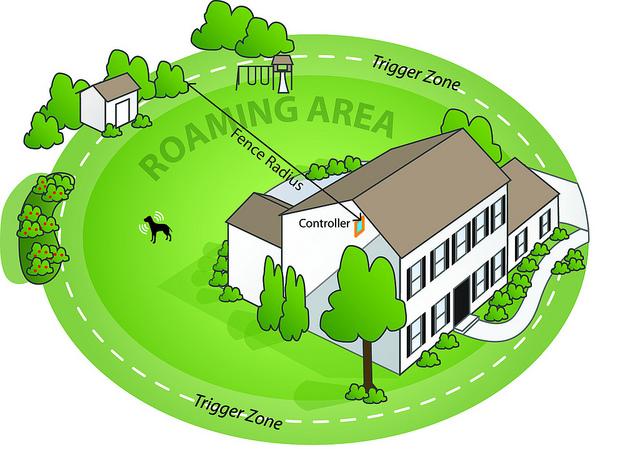 FEATURES
Completely Wireless: Dog fence is 100% wireless saving you a lot of time during setup, theirs no wiring, and no burying. 
Adjustable Long Range & Short Range Distance: Dog fence long-range distance gives your pet more room to run and play. With 1650ft/500m of adjustable distance you can set up your wireless dog fence anywhere.
Stationary & Portable: Dog fence has two power supplies, you can leave it stationary, plugged into the wall, or if you'd like to use it portably for traveling, you can unplug it and bring it with you. The wireless dog fence perimeter will remain up and active even when used portably because of the backup power supply inside of the transmitter. The transmitter lasts up to 10 hours before needing to be charged again, while being charged the wireless dog fence perimeter will remain active, to charge the transmitter, simply plug it back into the wall, leaving it in stationary mode.
Power Saving Mode: To conserve power, the receiver will go into standby mode if there are no operations within 1 minute. This will not affect the wireless fence operation, the fence and collar will remain on and active.
10Hr Backup Power Supply: Dog fence features a built-in 1000mah backup battery that lasts up to 10 hours. If your not at home and your power goes out, your pet will remain at home safe and secure.
Ultra Durable & Waterproof: We know how destructive pets can be, Dog fence is ultradurable, waterproof and rechargeable.
Trains and Stops Your Dog From Running Away: If your dog exceeds the range you've established, the receiver will initiate its training function automatically, which will remind the dog to return your designated safe area. Dog fence will begin vibrating for 3 to 4 seconds and then punishes with electric shocks. If your dog continues to leave, the process will repeat until your dog returns home. Afterward, the dog will not move forward when he feels the vibration warning.
Plug and Play Setup: Plug-In the Receiver and Adjust the Size of the Radius (In Feet), Put the Collar On Your Pet and It's Ready to Go! It's Always Recommended You Train Your Dog To Learn the Boundary.
Adjustable Training Levels: Three are three different levels of electric shock. "strong", medium", and "weak", these levels are freely configured.
Why Dog fence is better than competitors:
Dog fence is the safest solution for all types of pets. The strength of shocks have been evaluated by Dog Training Specialist around the world. Dog fence is assured to be safe and comfortable for your Best Friend.
Train your dog in within 14 days! The wireless dog fence will not hurt your dog. Static correction is mild and completely adjustable. Three progressive levels of correction allow you to administer training quickly and gently.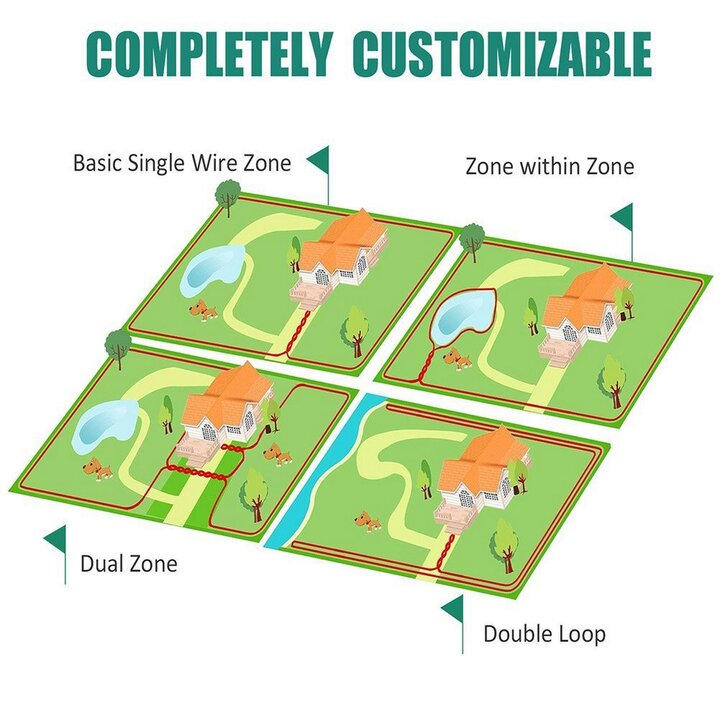 SPECIFICATIONS
Plug: AU Plug / UK Plug / US Plug / EU Plug 
Range: 200 m 
Dimension: 
Transmitter: 160x120x30mm 
Receiver: 60x36x30mm 
PACKAGE CONTENT
1 x Transmitter (built-in rechargeable lithium battery) 
1/2/3 x neck receiver (built-in rechargeable lithium battery) 
1 x Test light tool 
4 x Screws 
1 x User manual 
1 x Charger 
1 x USB cable 1/2/3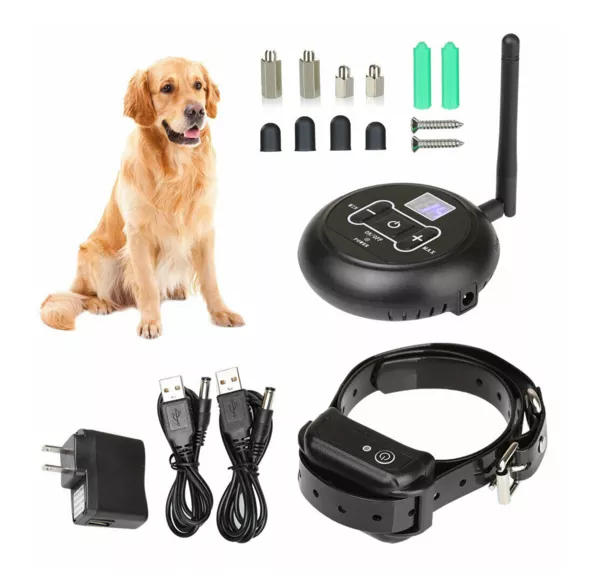 Notes: Please fix the controller to the wall without metal 1.5 m off the ground to avoid interfering wireless signal that may affect the controlling range.